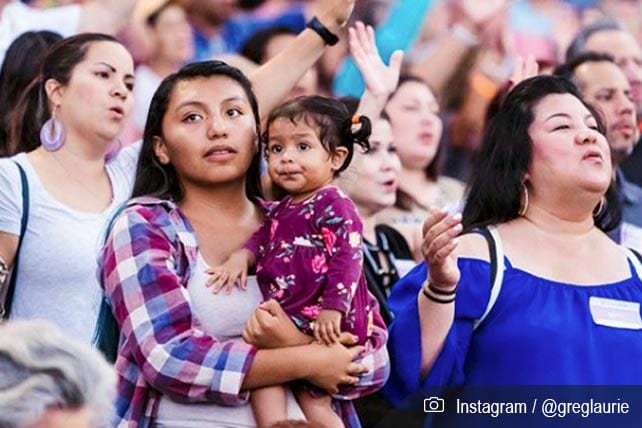 Greg Laurie has organized the SoCal Harvest for 30 years in a row now. This year, Laurie says over 100,000 people showed up at Angel Stadium in Anaheim, California, and 8,670 people made a profession of faith. 
"Hope has a name and it's Jesus Christ, and he's here to change your life tonight," Laurie told the crowd. "I have hope tonight for the hopeless generation. I have hope tonight for the Millennials and Gen X…and Baby Boomers."
This year's event included music and speakers on Friday, Saturday, and Sunday nights (August 23-25). Musicians for King & Country, Jeremy Camp, Passion Worship, Phil Wickham, Chris Tomlin, Lecrae, and the Newsboys performed songs and led the group in worship. Besides Laurie, who is the senior pastor of Harvest Christian Fellowship, speakers included Laurie's son Jonathan, Pastor Levi Lusko, and former professional baseball player Darryl Strawberry. 
SoCal Harvest and the Simple Gospel
SoCal Harvest events are known for giving a simple gospel message and inviting people to make a profession of faith. Laurie explained the need for the gospel this way: "The problem is you were separated from God by sin" and that's why "there's a hole in your heart." He went on to explain how Jesus is the only one who can bring us back to God. "Only Jesus Christ was uniquely qualified to bridge the gap between holy, perfect God and unholy, imperfect humanity." 
"Jesus came to pay a debt he did not owe because we owed a debt we could not pay," Laurie said as he explained how Jesus died on the cross in our place. He asked those who wanted to profess their faith in Christ to "make a public stand to follow Jesus" by walking out on to the baseball field, behind the stage. The Passion worship band played "In Christ Alone" as people started making their way from the stands down to the field. Laurie continued to speak words of encouragement as people came down, saying "You don't clean your life up then come to Christ. You come to Christ and he'll clean your life up." He also expressed the urgency of the need for people to come to Christ, asking them if they wanted to leave the stadium being for Christ or against him. "You might be one of the last ones to come, but hey—better late than never." 
Partnering With Local Churches for Follow Up
SoCal Harvest partnered with over 100 local churches in the greater Los Angeles area to pull off the three-day event. Local churches donate money and volunteers to make the event possible, as well as organize groups of people to attend. 
The local churches really come into play after the event, too, in very important ways. When a person makes a profession of faith at SoCal Harvest, organizers of the event have a number of things set up to help that person walk out that decision. On their website, Harvest explains what happens after the initial profession:

Those making a profession of faith in Christ are paired up with a Decision Follow-Up Worker and receive a free Start! Bible. The Decision Follow-Up Worker prays and encourages the new believer. He or she also documents the person's decision to follow Christ. The documentation is then given to a local church representative on the night of the crusade. Within 48 hours of the crusade, local churches mail letters and make phone calls to the new believers. To ensure the success of this step, Harvest Crusades utilizes mailings and other resources to encourage the local churches to follow up with all new believers. Harvest also has follow-up curriculum available for churches that haven't yet developed their own.
SoCal Harvest says over 500,000 people have come to Christ through their events in the last 30 years and over 6 million people have attended. As far as Laurie is concerned, the more the merrier. "I want to take as many people with me to Heaven as I possibly can," he said.