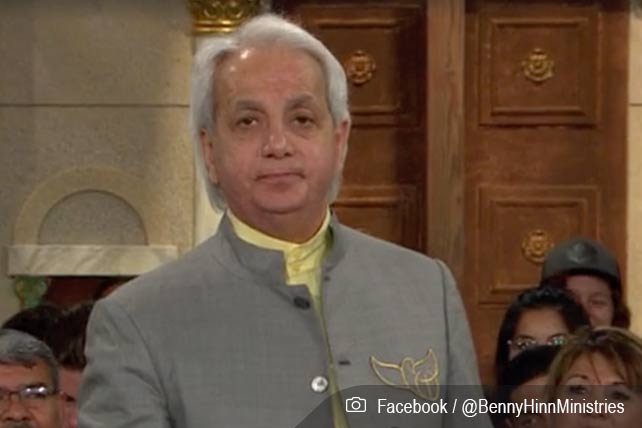 In what appears to be a stunning turnaround, televangelist and prosperity gospel proponent Benny Hinn admits his past teachings were "grieving the Holy Spirit." On Facebook Live Monday, the preacher told an audience: "I'm sorry to say that prosperity has gone a little crazy, and I'm correcting my own theology."
Adding that he's "been sick for a while" and now sees the Bible differently than he did 20 years ago, Hinn declared: "The gospel is not for sale, blessings of God are not for sale, miracles are not for sale, prosperity is not for sale." Hinn has previously taken steps to distance himself from the prosperity gospel, however, so some of his critics remain skeptical.
"Giving has become such a gimmick"
During "Miracle Crusades" that are broadcast on his This Is Your Day program, the charismatic preacher requests "seed money," promising donors wealth, health, and other blessings. Hinn, 66, once asked followers for $2.5 million to cover ministry debt. Meanwhile, he lived what his nephew, Costi Hinn, describes as a greedy, lavish lifestyle.
But on Monday, Benny Hinn said—"for the first time in my life"—that "it's an offense to the Holy Spirit to place a price on the Gospel." He added, "I'm done with it…and frankly, I don't care what people think about me anymore."
Hinn says people who invite him to telethons "will not like me anymore" because he's going to "rebuke them." He said, "If you are not giving because you love Jesus, don't bother giving. I think giving has become such a gimmick. It's making me sick to my stomach."
Hinn's Nephew Expresses Cautious Optimism 
Costi Hinn, now an outspoken prosperity gospel critic, writes in God, Greed, and the (Prosperity) Gospel about becoming "disgusted" by the lies and exploitation of his family's ministry. Responding to Monday's video, he tweeted: "Re: Uncle Benny I'm encouraged to see him express a refutation of prosperity theology, & even admit to wrong teachings on that topic. Now, pray for undeniable, lasting fruit that exemplifies genuine repentance. Truth & time go hand in hand (Psalm 51:17; Luke 19:1-10; Luke 3:8)." Costi later added: "He'll always be my uncle. I will always love him and pray for him until he or I are gone from this earth."
Financial requests are still airing on Benny Hinn's shows, and his nephew hopes they're simply prerecorded holdovers. Costi urges Benny "to put out a statement or even do a Facebook Live video saying he has repented."
Last year, Benny Hinn also appeared to backtrack from prosperity teachings, explaining that prosperity actually means "no lack." Jesus and his apostles weren't wealthy, he noted, yet "None lacked among them."
Speaking with Faithwire, Costi Hinn says he's hopeful that "with each apparent epiphany" Benny is "truly genuine in repenting"—but notes that "remorse and repentance" are different. He continues: "My prayer is that he is more than just sorry because his ministry is in decline or he's getting bad PR. I pray that he turns to Christ and preaches the true gospel with no motive except to be faithful."
Evangelist Justin Peters also expressed skepticism, tweeting Wednesday: "I would love nothing more than for Benny Hinn to repent. Truly. But he has not. Despite promising in a video yesterday he would never do it again, he put this video up TODAY in which he is asking people to sow $120 to get out of debt."
You can listen to Hinn's message to his followers in the video below. The comments he makes about seeing the Bible differently and changing his mind about the prosperity gospel start at about 1:22:00.