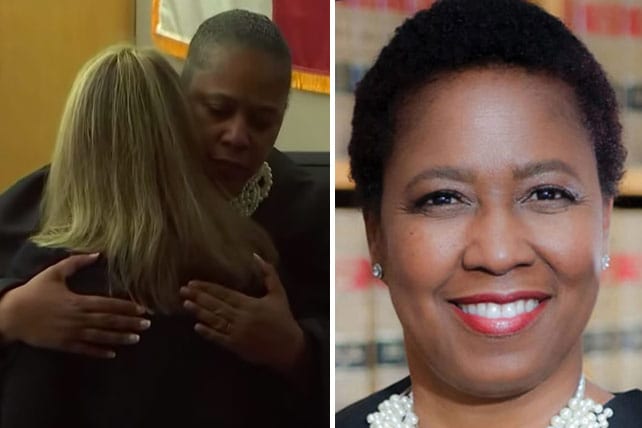 The Freedom From Religion Foundation (FFRF) has filed a complaint with the Texas State Commission on Judicial Conduct, taking issue over Judge Tammy Kemp's actions at the conclusion of the trial of Amber Guyger. After the sentencing and victim impact statement, the judge retrieved a Bible from her chambers and gave it to Guyger, telling her:
"You can have mine. I have three or four more at home. This is the one I use every day. This is your job for the next month. Right here. John 3:16." Kemp hugged Guyger and added, "It's not because I'm good. It's because I believe in Christ. I'm not so good. You haven't done as much as you think you have, and you can be forgiven. You did something bad in one moment in time. What you do now matters." 
Those present in the courtroom were visibly moved to tears, but outside, protestors were angered that Guyger was only sentenced to 10 years in prison. Prosecutors had asked for 28. 
Controversy Continues After Amber Guyger Trial 
Guyger, who is white, is a former Dallas police officer who was convicted of murdering Botham Jean, a black worship leader. Jean was at home in his apartment when Guyger entered and fatally shot him. She claimed she had mistakenly entered Jean's apartment, thinking it was her own, and shot him out of self-defense. 
The FFRF is a non-profit based in Madison, Wisconsin, that says its goal is to "protect the constitutional principle of separation between church and state, and to educate the public on matters relating to nontheism." Last month, the FFRF accused a school district in Tennessee of violating the Constitution when two students were baptized on a school's football field after practice.
Kemp's actions were also unconstitutional, according to the FFRF. Specifically, the organization took issue with the judge "gifting a bible, instructing a convicted criminal on how to read the bible and which passages to pay attention to and proselytizing and witnessing to that convicted murderer."
The FFRF praised Kemp for her handling of the trial, saying she showed "grace and aplomb," but stated that she took her compassion too far and abused her position of authority: "It violates the constitutional separation between state and church for a sitting judge to promote personal religious beliefs while acting in her official capacity. She was in a government courtroom, dressed in a judicial robe, with all of the imprimatur of the state, including armed law enforcement officers, preaching to someone who was quite literally a captive audience. Delivering bibles, bible studies and personal witness as a judge is an abuse of power."
Ongoing Tension
Debate most recently ensued after the conclusion of Guyger's trial Wednesday when Botham Jean's brother, Brandt, told Guyger he loved and forgave her and that he did not want her to go to jail. He requested and was granted permission from Kemp to hug the former police officer. 
Many have lauded this moment as an incredible step toward reconciliation. District Attorney John Creuzot called it "an amazing act of healing and forgiveness that is rare in today's society…especially for many of our leaders." However, others believe it is wrong to view it that way in light of continued systemic racial injustice. Pastor Jelani Greenidge wrote that forgiveness needs to be part of "a holistic process of restoration…where we care not only about resolving the immediate aftermath of wrongdoing, but we also attend to the root causes and the structural inequities that keep contributing to it."
The FFRF says it would like the commission to evaluate Kemp's actions and educate her on what on what constitutes appropriate behavior in the courtroom. According to The New York Times, some legal experts believe it is not clear whether Kemp's actions are or are not constitutional since the trial was officially over when they occurred.