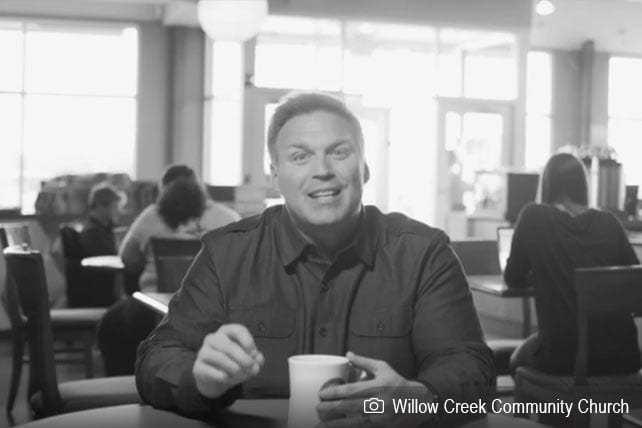 Marcus Bieschke, the lead pastor of Willow Creek Crystal Lake, announced last week that he is resigning from his position at the church. Bieschke's announcement comes months after Reece Whitehead, lead pastor of Willow Creek Wheaton, also announced he was stepping down. 
"No doubt, this is a surprise to many of you," wrote Bieschke in an email to the church, as reported by Julie Roys. "And it may be hard to understand what has been such a long, deep, and difficult process. Over the past 20 months, it has become increasingly clear to me that my heart and values are not in full alignment with Willow's current direction. I cannot pastor and lead to the best of my ability without being fully aligned in these fundamental areas."'
Leaving Willow Creek Crystal Lake
Bieschke said he announced his decision at the church's Core Meeting and that it was entirely his own choice. He will officially leave his role and the church on December 1st.
Willow Creek has eight campuses in the Chicago area, and for the past 20 months, the megachurch has been dealing with fallout from a scandal surrounding church founder and former senior pastor, Bill Hybels. In March 2018, the Chicago Tribune broke the story that Hybels had been under investigation for sexual misconduct for four years, an investigation the Willow Creek congregation knew nothing about. As a result, Hybels retired six months earlier than he had originally planned, but did not admit to any wrongdoing.
The Willow Creek elder board initially defended the former pastor, claiming that the women who had accused him of misconduct were colluding against him. The board later changed its position, even admitting its investigation was flawed, and the entire board resigned in August of that year. Willow Creek subsequently initiated a new investigation, conducted by the Independent Advisory Group (IAG). When the IAG released its findings in February 2019, it said the accusations against Hybels were credible and that the megachurch needed to make some serious changes in its culture and policies. Despite the fact that church leaders have taken some steps toward reconciliation, many believe Willow Creek has not sufficiently named and apologized for the wrongs that were committed by Hybels and others, such as when leaders called the women liars instead of believing they might be victims. 
Looking for a Different Path
In his email to the church, Bieschke said, "I've longed for and encouraged Willow to pursue a different path toward healing. But due to a difference of opinion on what that path should be, I believe I must depart." 
When Bieschke leaves, the Executive Pastor of Willow Creek Crystal Lake, Dave Smith, will take over as Interim Lead Pastor. Bieschke emphasized his confidence in Smith, saying, "I strongly endorse and have the highest respect for him. He knows and loves you and has served our church faithfully, with great diligence and uncompromised integrity." Bieschke went on to express his hope that the church will fully embrace Smith as the new lead pastor. 
In a message he gave on October 20th, Smith addressed Bieschke's impending departure, acknowledging that many church members were discouraged by what he called "yet another blow" in the unfolding turmoil of the past 20 months. Said Smith, "My overwhelming emotion is sadness, and I know that's the same for many of you." He apologized to the congregation on behalf of Willow Creek for the pain members have experienced because of the Hybels scandal. Smith also thanked the people who have reached out to support him after hearing Bieschke's news, and he encouraged the congregation to seek God in the midst of this difficult time. 
At the end of his email, Bieschke expressed similar sentiments, encouraging the congregants not to falter in their love for Jesus or for Willow Creek Crystal Lake. He wrote, "My prayer is that the emotions you may feel as a result of my departure will in no way negatively impact your love and commitment to Jesus and His Body, the Church—or negatively impact your love for Willow Crystal Lake."