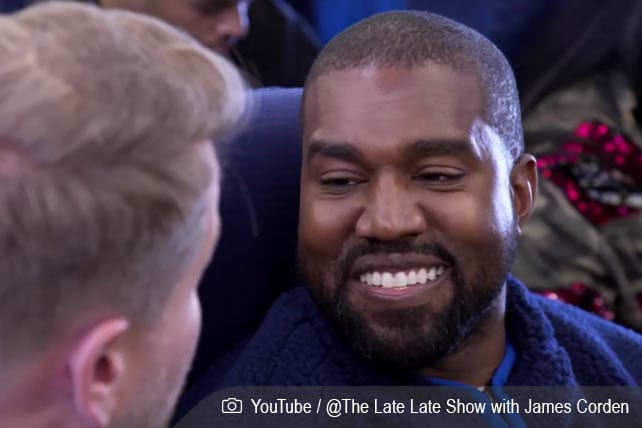 Kanye West and his gospel choir made an appearance on The Late Late Show with James Corden, where Corden presented a twist on "Carpool Karaoke" and West shared how he sees God working in his life.
"God's always had a plan for me," said West, "and He always wanted to use me, but I think He wanted me to suffer more and wanted people to see my suffering and see my pain and put stigmas on me and have me go through all the experiences, the human experiences. So now when I talk about how Jesus saved me, more people can relate to that."
Carpool Karaoke Becomes Airpool Karaoke
Corden has a segment on his show called "Carpool Karaoke," where he goes on car rides with celebrities, chats with them, and sings along with them to their music. This time, the host called the segment, "Airpool Karaoke," and instead of getting in a car, got on an airplane with West and the rapper's gospel choir. On the flight, Corden interviewed West between renditions of various songs, such as "Jesus Walks" and "Selah," which is from West's new album, Jesus Is King. 
Corden was curious about when West decided to pursue holding his Sunday services, and the rapper said that he got the idea a few years ago when he was in the hospital. While there, he wrote down that he wanted to start a church in Calabasas, California. West said that starting a church was something God put on his heart, and "now, He just keeps on taking me to new levels and taking us to other levels that we didn't even imagine before."
While a lot of people might be surprised to hear West talking so openly about God, Corden thinks that thread has always been in the rapper's music. The talk show host specifically mentioned the last line of the song, "Jesus Walks," which says, "I need to talk to God, but I'm afraid cause it's been so long." Corden was curious about West's journey from the fear mentioned in that line to his current boldness.
West explained that there were a lot of people praying for him when he was "all the way gone," alluding to the infamous moment when he interrupted Taylor Swift onstage at the MTV Video Music Awards. But even though the people in his family were praying for him, they couldn't do anything about the choices he was making, and it was ultimately "God that came and put this thing on my heart." 
When Corden asked if West had any regrets when he looked back on his past, the singer responded, "I have no regret and no shame." He drew a connection between shame and the need to be perfect, saying, "You know that's the biggest thing, me being a perfectionist. That's such a blasphemous statement to think that, as a man, you could perfect anything. God is the only thing that's perfect." When West and his choir performed "Jesus Walks," West ended the song by changing the last lyrics to: "I want to talk to God, I ain't afraid." 
When Corden asked West about his family life, the rapper said he likes being home with Kim and their children as much as possible. On a typical night, he and Kim eat dinner and play with the kids, and after the kids go to bed, Kim likes to watch Dateline while West reads the Bible. 
"For real?" asked Corden. "Seriously? You sit and read the Bible?" "Yes," said West.
Corden and West also discussed marriage, as well as the fact that West sees his financial success from this past year as a direct blessing from God for the rapper's devotion to Him. "Kanye West works for God," he said. "God is using me to show off."
At the end of the carpool karaoke interview, Corden wanted to know what West would say to people who don't believe he's had a true spiritual awakening. West answered by emphasizing the difference between being asleep and awake: "People who don't believe are walking dead. They are asleep, and this is the awakening."