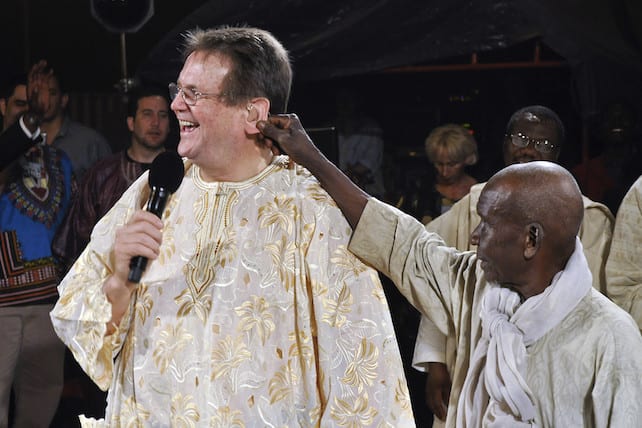 Reinhard Bonnke passed away this morning at the age of 79. The celebrated German-born evangelist garnered the nickname "the Billy Graham of Africa" for his extensive evangelistic work on that continent.
"Bonnke was best known for his gospel outreach campaigns throughout Africa. It is no exaggeration to say that his work transformed the continent," Daniel Kolenda, the president of Christ for all Nations (CfaN), wrote in a statement.
"He passed away peacefully, surrounded by his family," an announcement on the late evangelist's official Facebook page.
Who Was Reinhard Bonnke?
Bonnke, born in eastern Germany in 1940, was born again at the age of nine. At age 10, he traveled to Africa on a missions trip and had an experience of baptism in the Holy Spirit.  After attending the Bible College of Wales in Swansea, United Kingdom, under the tutelage of Rees Howells, Bonnke served as a pastor in Germany of seven years. Bonnke's father was also a pastor. He started his evangelistic work in Africa in 1969 with his wife, Anni.
While serving in Lesotho, Bonnke had a vision of "the continent of Africa, being washed in the precious Blood of Jesus." The German preacher began holding meetings in a tent, starting with around 800 people. Bonnke's meetings became notorious for the crowds they attracted. He actually commissioned the construction of the world's largest mobile structure in 1984. It was a tent that could seat 34,000 people at a time. Soon, though, even this massive tent couldn't hold the crowds the charismatic preacher drew. He moved to open-air meetings which drew as many as 1.6 million people at a time, according to his website.
Bonnke founded CfaN in 1974. CfaN claims to have record of over 77 million people coming to Christ through their events, publications, and teachings since 1987.
Why Is Reinhard Bonnke Compared to Billy Graham?
In addition to the tent-style meetings reminiscent of Billy Graham's ministry, Bonnke also met with heads of state in a similar way to Graham. CfaN's website says, "Many leading national figures opened their own hearts to the message of the Gospel while meeting privately with Reinhard." The evangelist met with at least 14 different State Presidents in Africa and considered "a number of them as personal friends."
There was at least one distinct way that Bonnke's ministry differed from Graham's, though. Bonnke often preached about the baptism of the Holy Spirit and talked about God's ability to heal and transform people supernaturally. Kolenda spoke to the miracles people witnessed at Bonnke's meetings, writing "The creative work of the Holy Spirit dissipated cancers, opened blind eyes, reset broken minds and shook the Church to once again believe for the 'greater works' promised by Jesus Himself.
Bonnke and CFaN also produced a body of work to instruct those converted at the events as well as training resources for those working in the field of evangelism. From their website:
As part of the discipleship-training program, 185 million copies of CfaN follow-up literature have been published in 103 languages and printed in 55 countries. Millions of books have been printed and freely 'seeded' in nations around the world. All this is in addition to the Reinhard Bonnke School of Fire, an online, self-study course, aimed at inspiring others to Holy Spirit Evangelism and leading to either a certificate or university credits.
Reinhard Bonnke is also recognized for hosting 'Fire Conferences' in many different countries of the world, events that are aimed at equipping church leaders and workers for evangelism; for distributing over 95,500,000 copies of Minus to Plus, a profound salvation message, to homes around the world; and for seeking every opportunity to reach and to save the lost.
More recently, Bonnke has spent several years developing the 'Full Flame Film Series,' a series of eight inspirational films aimed at inspiring and challenging the church to Holy Spirit evangelism.
Kolenda shared this quote from Bonnke is CfaN's announcement of their founder's passing:
In truth, I have done nothing alone. God has called me and has been my pilot. The Holy Spirit has been my comforter, my guide, and my power source… He brought to me the perfect wife. He gave us our beautiful children and extended family. And He has provided a team that has grown with me through decades of working together. Beyond that, He has brought thousands to stand with us. They have supported us in prayer and in partnership. Our rewards in Heaven will be equal.
Bonnke is survived by Anni and their children, Kai-Uwe, Gabrielle, and Susie, as well as eight grandchildren.