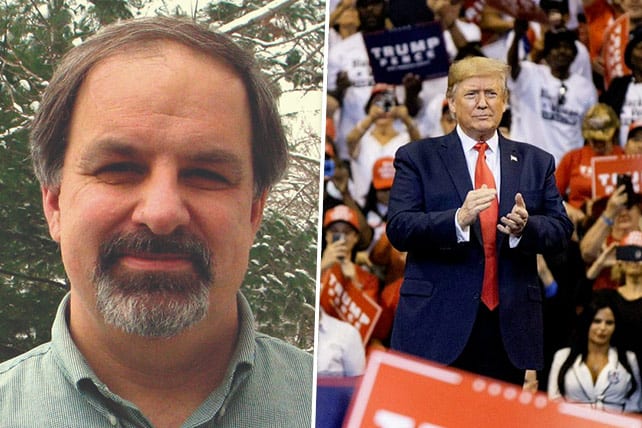 In an editorial that's sending shockwaves throughout religion and politics, Christianity Today (CT) magazine is calling for President Donald Trump's removal from the White House because of "moral deficiencies." On Thursday afternoon, CT editor-in-chief Mark Galli posted an op-ed titled "Trump Should Be Removed From Office." In it, he blasts America's 45th president for "profoundly immoral" actions and warns Trump's supporters of faith to "Remember who you are and whom you serve."
Galli, a former pastor who's about to retire from CT (which was founded by late evangelist Billy Graham), writes that the publication could no longer "stay above the fray" of politics but needed to express opinions "with both conviction and love." After acknowledging that "Democrats have had it out for [Trump] from day one" and that the president had no "serious opportunity to offer his side of the story in the House hearings on impeachment," Galli writes that "the facts in this instance are unambiguous."
Saying "it's time to call a spade a spade," the editor-in-chief labels Trump "morally lost and confused" and says Christians can no longer "brush off" his immorality "in the cause of political expediency." Twenty years ago, Galli notes, CT called out President Bill Clinton's sinful behavior, so the publication's "concern for the character of our national leader is not new." Though the editorial doesn't indicate a preference for how Trump is removed, it maintains that his removal "is not a matter of partisan loyalties but loyalty to the Creator of the Ten Commandments."
The editorial, characterized as a "surprising act of dissension" by evangelical Christians, temporarily crashed CT's servers and drew swift responses from key players.
Trump, Franklin Graham Condemn Mark Galli, CT
Early Friday, Trump attacked Christianity Today on Twitter, calling it "a far left magazine" that "has been doing poorly" and "knows nothing about reading a perfect transcript of a routine phone call" (referencing his July conversation with Ukraine's president). He tweets that "No President has done more for the Evangelical community," adding, "I won't be reading ET again!"
Franklin Graham, son of CT's founder and a vocal Trump supporter, also quickly responded to what he calls "a totally partisan attack." On Facebook, Graham says his father would have been "disappointed" by the op-ed, and he revealed for the first time that his father voted for Trump in 2016. Graham, president of the Billy Graham Evangelistic Association and Samaritan's Purse, notes that although many House Republicans are "strong Christians," not one voted for impeachment. He cites Trump's accomplishments, calling him "the most pro-life president in modern history." Acknowledging that Trump, like all humans, is "guilty of sin," Graham urges Americans to pray for the president.
About CT, Graham says it no longer represents "the Bible-believing segment of the evangelical community." Instead, he says, the magazine has moved "to the left" and represents "the elitist liberal wing of evangelicalism."
Trump senior legal adviser Jenna Ellis calls CT's editorial "shameful and constitutionally ignorant." She tweets: "Pious 'Never Trumpers' who feel morally justified about this #impeachmentcircus are as morally reprehensible as Democrats."
Some Christians Express Gratitude for CT's Stance
On Facebook, the link to CT's editorial received more than 23,000 comments by Friday noon. Some people are thanking the magazine for its bravery, saying their prayers have been answered; others, however, accuse it of self-promotion.
Lisa Sharon Harper, president of Christian justice group FreedomRoad.us, says, "The heart of white evangelicalism is realizing that its pulse is weak, and that there is sickness in the faith." Though she decries "the fact that it took them so long," she says, "I'm glad they spoke out."
Calling CT's editorial "a watershed event," leading liberal evangelical Jim Wallis says this may indicate troubles for Trump's re-election in 2020. Wallis, founder of the progressive Sojourners magazine, says, "You don't need a whole lot to shift the race, just a few votes in key places in key states could make the ultimate difference." He predicts that white suburban women and younger evangelicals will be especially impacted—and excited—by CT's statement.
Mark Galli Defends CT as 'centrist'
Speaking to media outlets about the editorial and its fallout, Galli says the topic of Trump's character—and its impact on Christians' credibility—had been "weighing on" him. The op-ed, which compares Trump to an abusive husband, probably won't change many people's minds, admits Galli, a political independent. But he warns it's "a big mistake" for evangelicals to "defend [Trump] to the end." When asked about Trump's long-term effect on evangelism efforts, Galli responds, "It's going to be horrific."