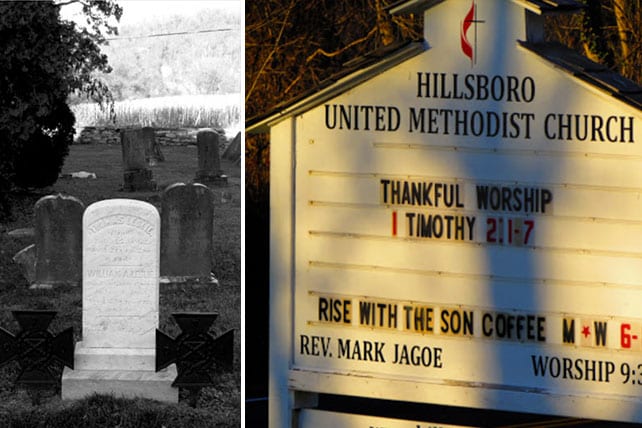 A church in Loudoun County, Virginia, has become the center of controversy after the congregation initially refused to memorialize a slave cemetery that was discovered on church property. While efforts are now underway to commemorate the burial site, it was not before the Pastor Mark Jagoe left the church, taking the African American members with him. 
"I just didn't feel like I belonged there any more," a black woman who wished to remain anonymous told NBC Washington News.
Finding a Forgotten Slave Cemetery
Mark Jagoe (who is white) had been pastor at Hillsboro United Methodist Church for over five years before retiring in October. He found the burial site several years ago while exploring the possibility of expanding the church's parking lot. While he at first came across markers designating the graves of eight black freedmen, further investigation showed 72 slaves and freedmen were buried in the area. 
Jagoe then wanted to use the church's funds to construct a memorial wall at the site, but the congregation refused. The former pastor claims this decision was motivated by race and says, "It broke my heart." One former church member, who is white, told NBC there was a generational aspect to the division as well: "It was pointed out clearly that young people came in and…caused trouble." 
Jagoe was further bothered by the fact the church supported the placement of iron crosses on the graves of Confederate soldiers in the church's all-white cemetery. Loudoun Now reports that the Sons of the Confederate Veterans and United Daughters of the Confederacy supported Boy Scouts in installing the crosses, as well as Confederate flags, in the cemetery. Jagoe says the church's actions are indicators of "structural racism" within the church. He tried to mitigate the situation by posting a sign explaining the crosses and flags "are not intended to reflect support for white supremacy, or be seen as symbols of structural racism.
"It's just a repeat of history," said the woman who did not want to be identified. "Being a person of color, makes you feel like you're not important, that your past history or your ancestors don't really mean anything."
Church Maintains the Issue Was Financial
Hillsboro's interim pastor, Larry Thompson, counters that in the time he has been with the church he has "not found the people here to be involved in or have any intent at any systemic racism." According to Thompson, the reason the members initially refused to pay for the memorial wall was because they were concerned about spending too much of the church's savings on the project. He told Loudoun News the congregation is currently pursuing memorializing the cemetery and that one of the members is seeking federal grants for that purpose. 
Various outside parties, such as the city of Hillsboro, the NAACP, and the Loudoun Freedom Center, have since gotten involved in the concerns of the grave site. Mayor Roger Vance is pursuing avenues for commemorating the slave cemetery and told NBC, "I'm hopeful that we will make some progress here and that we can have a really positive outcome. This could be a wonderful story." 
Regarding the church's efforts to memorialize the site, Jagoe said, "When it works out, that will be great. It's going to get done and that's good news."