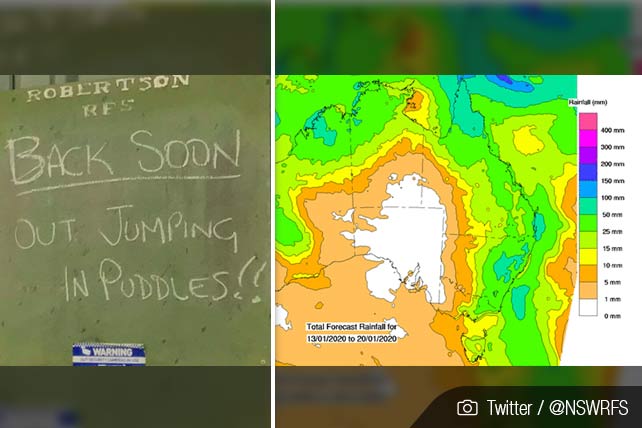 Australia weather has been on the hearts and minds of many due to the fires that have been raging for months now. Firefighters in Australia received a bit of help in their bushfire-fighting efforts on Wednesday: It started to rain. While the rain won't end the drought conditions or put out all the fires, it is a welcome natural phenomenon for the firefighters and an answer to the prayers of many people. 
When meteorologists predicted the rains on Monday, the New South Wales Rural Fire Service tweeted the rain would be akin to "all of our Christmas, birthday, engagement, anniversary, wedding and graduation presents rolled into one." 
They have since been celebrating the rains with various images and video footage. 
Relief is here for a number of firefighters working across NSW. Although this rain won't extinguish all fires, it will certainly go a long way towards containment. This footage was captured down at the Good Good Fire burning near Cooma. #nswrfs #nswfires pic.twitter.com/fxV9u2hN6K

— NSW RFS (@NSWRFS) January 16, 2020
Australia Weather Bringing a Mixed Bag of Help, New Problems
The rain is currently concentrated in southeastern Australia. Some bushfire-affected areas are experiencing the most rain they have seen in months. Some areas received as much as three inches of rain, while others only experienced passing thunderstorms with little, if any, rainfall. The storms have brought more than just rain, too. Hail, damaging winds, and dust storms are also occurring. Lighting strikes have sparked some new blazes. 
Still, the rains have given firefighters in some places the edge they need to contain more of the bushfires. Before the rain started Wednesday, over 100 fires were not contained. Now, that number has dropped to around 80. 
Looking into the weekend, meteorologists are predicting the rains will continue in eastern New South Wales (where Sydney is located) and Queensland (a northeastern state where Brisbane is located). 
However positive and highly anticipated the rain is, it could also present new problems. Some of the areas experiencing rain at the moment are now at risk of flash flooding. Since the trees and soil have been scorched in fire zones (and thus unable to absorb the precipitation), areas downstream are in danger of flooding due to enhanced runoff. Some experts are concerned that animals that have escaped the fires may now be in danger of being swept up in flooding. 
The Bushfires Background
As ChurchLeaders reported earlier this week, since last September, catastrophic blazes have scorched more than 12 million acres in Australia, killed at least 25 people plus millions of animals, and destroyed more than 2,000 homes. Businesses and at least one church also have been lost.
The states of New South Wales and Victoria, along the country's eastern coast, have been hardest hit. Images of evacuees huddling on beaches, koalas begging for water, and red, smoky skies are conveying the tragedy's magnitude.
Australian Prime Minister Scott Morrison, an evangelical Christian, recently committed an extra $2 billion toward wildfire recovery efforts. Morrison has received criticism for his response to the fires, as well as for his policies regarding climate change. Uni Students for Climate Justice, one group protesting what it calls insufficient governmental funding, writes, "It's scandalous that we have to rely so heavily on volunteers and charity to stop whole towns from being wiped out!"
Churches and charities, including Hillsong Church Australia, are collecting donations and mobilizing aid. To date, Hillsong's Bushfire Appeal has raised $1.2 million. 
Please continue to pray for favorable Australia weather and for the people and animals affected by these unprecedented fires.