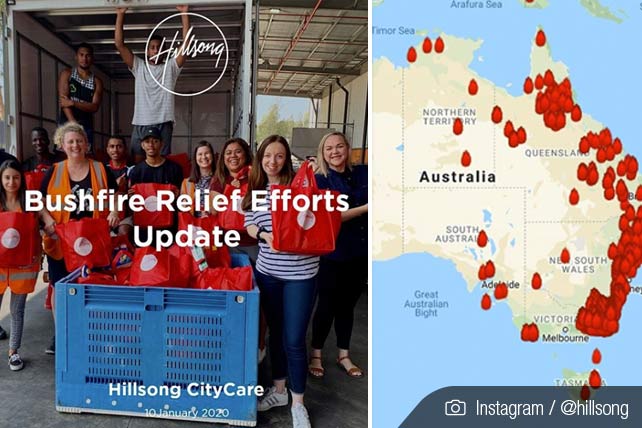 Among the Christian groups raising funds for Australian bushfire relief is Hillsong Church Australia, a megachurch—and now its own denomination—founded and based in Sydney. Known for its worship music, Hillsong also is active in local and global social justice initiatives.
Senior pastor Brian Houston reports that Hillsong's "Global Bushfires Appeal" has raised more than $1 million in relief donations so far. The amount doubled within about a week, according to Houston's social media posts. The church says 100 percent of the funds will be distributed to food banks, the Salvation Army, volunteer firefighters, and families affected by the disaster.
In reports about the fires, Hillsong expresses gratitude for the generous donations "from people from all walks of life both here and overseas." The church also requests prayers "for our nation, our leaders, firefighters, and communities affected and for rain that will end the drought in our scorched land."
Bushfire Has Been Burning for Months
Since last September, catastrophic blazes have scorched more than 12 million acres in Australia, killed at least 25 people plus millions of animals, and destroyed more than 2,000 homes. Businesses and at least one church also have been lost.
The states of New South Wales and Victoria, along the country's eastern coast, have been hardest hit. Images of evacuees huddling on beaches, koalas begging for water, and red, smoky skies are conveying the tragedy's magnitude.
Australian Prime Minister Scott Morrison, an evangelical Christian, recently committed an extra $2 billion toward wildfire recovery efforts. Morrison has received criticism for his response to the fires, as well as for his policies regarding climate change. Uni Students for Climate Justice, one group protesting what it calls insufficient governmental funding, writes, "It's scandalous that we have to rely so heavily on volunteers and charity to stop whole towns from being wiped out!"
Christian Organizations Rally for Relief
Hillsong's wildfire fundraising began back in November, at a men's event. The church says its response to this crisis, as to others, "involves a two-fold approach which not just looks after the immediate needs but also looks to the long-term recovery and well-being of those who are suffering."
Other Christian organizations supporting relief and recovery in Australia include Samaritan's Purse, the Billy Graham Evangelistic Association's Rapid Response Team (RRT), and A Rocha Australia, a branch of an international Christian conservation group.
RRT manager Steward Beveridge describes the wildfire toll in Australia as "heartbreaking." The chaplains on his team are ministering to "weary, burdened, and…overwhelmed" residents, he says, listening to people's stories, crying with them, and sharing the hope of the Gospel. Beveridge says, "Please pray we will recognize every open door God puts before us and have courage to step through them so conversations about hope, faith and God's compassion can follow."
On its website, A Rocha Australia explains that it's partnering with both Christian and secular organizations to address "Creation care projects." It notes: "We are looking for opportunities to engage Australian churches to see this disaster through a scriptural lens, and in repentance and obedience, rather than simply as a political issue."