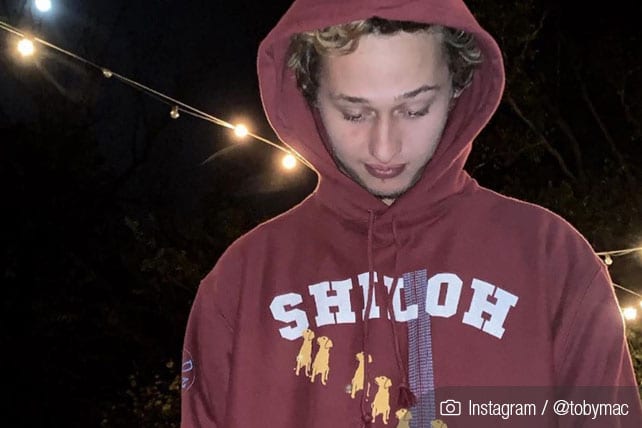 The cause of death of TobyMac's son, Truett McKeehan, has finally been revealed. According to The Tennessean, Davidson County autopsy and toxicology reports revealed that Truett died from an accidental drug overdose after consuming fentanyl and amphetamines.
Davidson County Medical Examiner Feng Li conducted the autopsy and his report lists the cause of death as "acute combined drug intoxication." In addition to fentanyl and amphetamines, Truett had adderall, marijuana, and nitrous oxide (also known as laughing gas) in his system. The report states that Truett had a history of drug and alcohol abuse. 
Truett McKeehan's Tragic Death
Truett McKeehan died suddenly on October 23, 2019, at age 21. All that was publicly known about his cause of death at the time was that authorities had responded to a cardiac arrest call at the McKeehan home in Tennessee. TobyMac (the stage name of Kevin McKeehan) was touring in Canada when he heard the news and rushed home to be with his family. 
Truett was an aspiring rapper who went under several different stage names, including Shiloh, Tru, and Truett Foster. In a statement released the day after Truett's death, TobyMac described the last time he had seen his son, which was at Truett's first show in Franklin, Tennessee. Said the father, "As I stood in the audience and watched my son bring joy to a room, I was as proud as a 'pop' (as tru called me) could be. It was the culminating moment of a dream that he had since he was 12. It couldn't have been sweeter."
TobyMac shared pictures of Truett's funeral across his social media channels a month after the 21-year-old's passing and expressed how thankful his family was for the outpouring of love and support they had received from so many. Said the singer, "As we mourn our firstborn son, God has poured out His love on us through people. He has loved us through you…You have been God's light to us in our darkest days—A comfort to our broken hearts."
Shortly after Truett's death, the Christian rapper started a foundation in his son's honor with the purpose of helping kids who want to pursue their love of music. Recently, TobyMac released a song he wrote in memory of his son, titled "21 Years." In it, he refers to Truett as, "my prodigal son," and envisions God running to and embracing Truett, as the father did in Jesus' parable in Luke 15. In a post on Instagram, TobyMac said he originally intended simply to get his thoughts on paper about losing Truett, but that processing ended up becoming "a song I never wanted to write." He said, "I hope it's for someone out there, or maybe it's just for me."
In a separate post, he wrote, "God didn't promise us a life of no pain or even tragic death, but He did promise He would never leave us or forsake us. And I'm holding dearly to that promise for my son as well as myself.