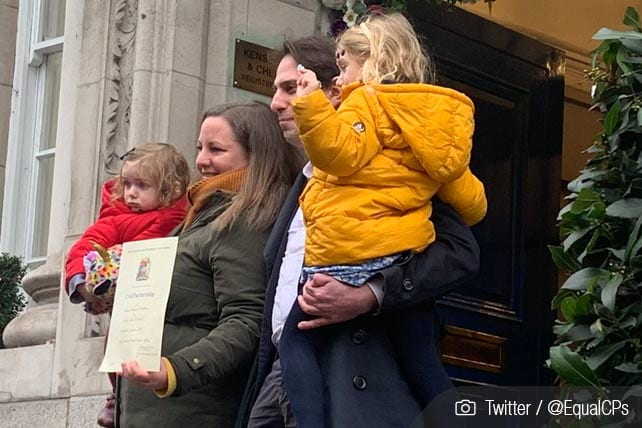 Now that heterosexual couples in England can enter into a civil partnership rather than marriage, the Church of England has affirmed its stance that sex should be reserved only for married heterosexual couples. In a document issued this week, the House of Bishops instructs clergy members not to "provide services of blessing" for civil partnerships.
"Sexual relationships outside heterosexual marriage are regarded as falling short of God's purpose for human beings," the statement notes. "For Christians, marriage—that is, the lifelong union between a man and a woman, contracted with the making of vows—remains the proper context for sexual activity."
The document reiterates that people in civil partnerships—whether opposite-sex or same-sex—should remain abstinent. The Church of England bans same-same marriage, which the country legalized in 2013. Clergy are permitted to be in same-sex relationships, as long as they abstain from sex.
Church of England: 'The nature of the commitment' matters
The distinction between marriage and civil partnership, according to the bishops, is "the nature of the commitment that members of a couple choose to make to each other." Civil partnerships come with "ambiguity," the document notes, and the church affirms "the value of committed, sexually abstinent friendships." It adds: "There is likely to be a range of circumstances in which people of the same sex or opposite sex choose to register a partnership, including some where there is no intention for the relationship to be expressed through sexual activity."
The Rev. Dr. Malcolm Brown, the church's director of mission and public affairs, explains: "Civil partnership is not the same as marriage, which is founded on the taking of solemn public vows and is recognized in the church's teaching as the only proper context for sexual relationships. So, as with same-sex civil partnerships, there is no formal service or blessing but clergy will, as always, be encouraged to respond pastorally to couples wishing to formalize their relationship in this way."
While affirming that "the church's teaching on sexual ethics remains unchanged," the bishops acknowledge they're trying to "minister sensitively and pastorally to those Christians who conscientiously decide to order their lives differently."
Homosexuality Debate Continues
As with other Christian denominations (including, most recently, the United Methodist Church), the Church of England has faced ongoing disagreements about LGBTQ issues. "Living in Love and Faith," the institution's large-scale study on human sexuality, will be released in early 2020.
Progressives say they're saddened but not surprised by the document. "It will appear far from 'pastoral' to those it discusses and shows little evidence of the 'radical new Christian inclusion' that we have been promised," says LGBTQ advocate Jayne Ozanne, a member of the church's General Synod. "I look forward to the day when the Church of England sets its house in order, extends a proper welcome to all."
Others expressed anger, saying the church is out of touch and driving away young people. One tweeted: "When Franklin Graham is cheering the bishops on they should know they have got things badly wrong." Graham had tweeted: "I appreciate the church taking this strong stand with the Word of God, which is truth."
In an opinion piece for the Washington Examiner, Kaylee McGhee says critics shouldn't be shocked that the Church of England is…a church. It "still adheres to the Bible's commandments on marriage as authoritative and infallible," she writes. "It's one thing if you want to disagree, but don't denounce the Church of England for fulfilling its responsibility to its congregants and, more importantly, to its maker."