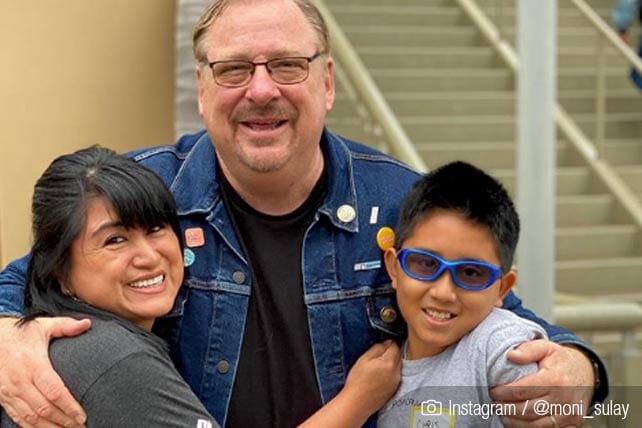 To celebrate its 40th birthday, Saddleback Church held a party yesterday for parishioners at its main campus in Lake Forest, California. Despite steady rain showers, thousands of attendees enjoyed fellowship, family activities, and a film screening about the megachurch's history.
Members from Saddleback's 14 satellite campuses gathered in Lake Forest, rather than having their usual weekend worship services. Special guests from the church's four international campuses also attended.
At what was billed as "the biggest party of the year," worship teams performed, current and past volunteers gathered for group photos, and guests completed an activity passport by visiting booths. Highlights included food, raffle prizes, a petting zoo, a Ferris wheel, and a zip line. 
Celebrating 'countless lives changed' 
In 1980, Rick and Kay Warren launched Saddleback Church as a Bible study group in their condo. The first worship service was held on Easter Sunday that year, in a high school gym. Since then, Saddleback has baptized more than 50,000 people and averages 30,000 weekly attendees.
Pastor Rick Warren, named one of Time magazine's "100 Most Influential People in the World" in 2005, is the author of books such as The Purpose Driven Life. Kay Warren, also an author, became a mental health advocate following the 2013 suicide of their son Matthew. Saddleback's 40th anniversary festivities coincided with Kay Warren's birthday.
Ahead of the party, the church posted invitations on its website and social media pages. "Over the decades there have been countless lives changed, hopes restored, and miracles have happened through what God is doing through our church family. So we want to celebrate with you and everyone who has ever been a part of Saddleback."
40 Years Was a Key Goal for Pastor Warren
When the Warrens began Saddleback, their goal was to stay in one location long-term. "Kay and I made this crazy promise when we were 25 years old that we would give 40 years to one location, that we wouldn't move, and that we wouldn't be tempted to go to another church," Rick Warren told the OC Register. "I've been offered all kinds of different jobs with Christian organizations, seminaries, and denominations. I've never moved, and as I stood up at the first service this year, I'm thinking we did it, we kept our promise, we gave 40 years to one place and I've loved these people." Relationships, hospitality, and community outreach have been key to Saddleback's success, he says.
As a prelude to this year's anniversary, Saddleback held a "Daring Faith" campaign, with "faith-stretching" goals of attendance, giving, and world impact. On February 2, in his "2020 Vision" message, Warren shared some next-step outreach plans, including "a world-class restorative retreat center with support for different kinds of pain."
Rather than predicting what will change in the future, Pastor Warren speaks about "what's not going to change." He says, "People will still have marriage problems, they're still going to be lonely, they're still going to want to know the purpose of life, they still have problems with depression, fear, bitterness, jealousy. They're human problems. If you're dealing with personal lives of people, you're always relevant."