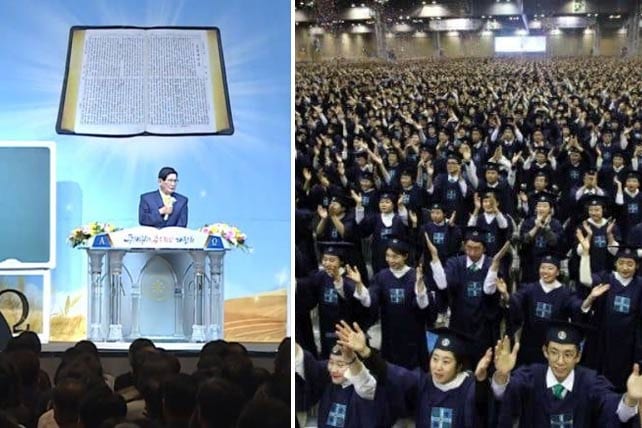 As the COVID-19 coronavirus and fears of a pandemic continue to spread, South Korean officials have zeroed in on a doomsday cult, including one member who was a "super-spreader." Health officials say more than 60 percent of the nation's 977 confirmed cases involve members of the Shincheonji Church of Jesus. Its founder, self-proclaimed messiah Lee Man-hee, has given authorities the names of all 200,000 church members so they can be tested for the virus.
Lee says the church, based in Daegu, is "actively cooperating with the government," which reportedly agreed to protect members' identities. On Monday, after a lead health official there was diagnosed with COVID-19, he admitted he belongs to the church.
Daegu's 2.5 million residents are being asked to stay home in efforts to contain the outbreak. So far, 11 people have died from the virus in South Korea.
Worship Style at Shincheonji May Have Played a Role
Some people point to Shincheonji worship and proselytizing practices for COVID-19's rapid spread there. "They are packed together like sardines in one area," says one former member. "They are forced to sit line in line, and your knees will literally be touching the other person's knees." Plus, he says, being sick wasn't an excuse to miss worship, and wearing masks was considered disrespectful.

Shin Hyun-uk, a longtime Shincheonji member who now directs a cult counseling center, says worshipers sit on the floor, packed like "bean sprouts." He tells NPR: "A bigger problem is that they shout out 'amen' after every sentence the pastor utters, pretty much every few seconds. And they do that at the top of their lungs." Saliva is a likely culprit in virus transmission.
Shin also points to church evangelism practices as potentially problematic health-wise. "Because Shincheonji members cannot reveal [their identity]," he says, "they make it impossible for others to be cautious and self-quarantine themselves."
The cult's 200 members in Wuhan, China, worshiped together until December. "Rumors about a virus began to circulate in November," one member says, "but no one took them seriously." Officials are looking into reports of travel by Shincheonji members between South Korea and China.
Cult Members Say They're Being Unfairly Targeted
Though the group "deeply regrets" the outbreak, Shincheonji leaders say they're the victims of "false information." Worshipers must pack together on floors, they say, because the group hasn't been "allowed our rightful building permit."
A Shincheonji member in Wuhan says it's "quite unfair to pin" the illness on the church because "there are so many Chinese traveling to South Korea." She adds that members are "aware of all the negative reporting" about their ties to the outbreak, but because they've been labeled as a cult, "we do not want to defend ourselves in public because that will create trouble with the government." 
In a statement, the church says it has halted all activities and is sanitizing all meeting spaces. Because of the group's suspected role in the outbreak, more than half a million South Koreans have signed a petition to have it forcibly disbanded. Shincheonji spokesman Simon Kim says, "We're the biggest victims of the Covid-19 epidemic [and have] become a target of hatred."