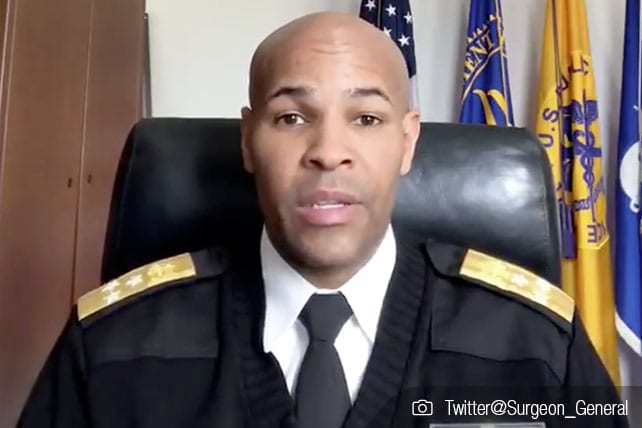 In an April 2 interview with Focus on the Family, U.S. Surgeon General Jerome Adams speaks about the pandemic as both a scientist and a Christian. Taking questions from Focus on the Family President Jim Daly, Adams acknowledges that the current crisis is "deadly serious" but adds, "There is reason to be hopeful," both "scientifically and from a faith perspective."
'Our book is not yet written'
Despite grim projections of up to 240,000 U.S. deaths, the Surgeon General emphasizes that "those numbers don't have to be our reality." He says, "Our book is not yet written, so we need to make sure we're doing the things that we know work. Social distancing. Keeping six feet away from each other. Teleworking if at all possible. Avoiding non-essential travel."
If Americans "lean in" to that advice, Adams says, "There is a light at the end of the tunnel." The Surgeon General, an anesthesiologist from Indiana, acknowledges that everyone's learning on the fly with the novel coronavirus. But he commits to "always try to give you the most accurate information we can when we have it."
Adams, 45, says he gets frustrated when people put "a political spin" on the pandemic. Public servants are "working hard to try to get to the other side of this," he says, adding that the crisis will be solved not from Washington, D.C., but "in communities with people coming together and supporting each other to do the right thing."
Advice on Masks, Safety & Testing
When asked about masks, the Surgeon General admits the issue is "confusing." While data is being studied, he advises people who do wear a facial covering to wash their hands first and to not touch their face. N95 masks should be reserved for health professionals, he says, and covering your face isn't a "substitute for social distancing."
Because "the virus can live for a certain amount of time on hard surfaces," Adams says, it's important to clean surfaces often, wash your hands, and avoid touching your face—especially when you're out in public. With asymptomatic people able to spread the virus, he urges young people against feeling invincible. "Even if you don't get sick, you could be the one taking [germs] home to your nana," he says. "We don't want to unnecessarily scare people, but we want them to have appropriate caution." 
Regarding testing, the Surgeon General says more than 100,000 COVID-19 tests are being administered daily. He also explains the difference between diagnostic testing, which is geared toward the high-risk population and health workers, and surveillance testing, which will guide public policy about when parts of America can start to reopen.
Faith and Family Are Key
Adams, 45, also speaks about the crisis on a personal level. Though he's had to be away from his own family lately, he calls stay-at-home orders "an opportunity" to interact without screens. "Social distancing doesn't mean social disengagement," he reminds people, adding that it's okay to give blood, safely check on neighbors, and be active outdoors so "we don't go stir crazy."
As a Christian, Adams believes "God always has a plan," and he ponders biblical examples of God putting people where they need to be, not where they're comfortable. "The most powerful thing you can do for me is to pray for me to hear what [God] is trying to tell me," he says. The Surgeon General also requests prayer for first responders, medical workers, and others on the front lines.
Being a scientist and a Christian "aren't mutually exclusive," says Adams, adding that right now it's more important than ever "to lean on your faith."