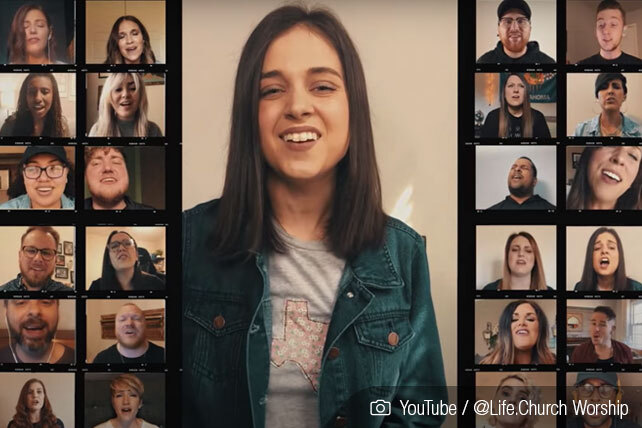 Christians across the U.S. have been sheltering in place during the weeks leading up to Easter, but that has not stopped congregations from celebrating, even from a distance, what Christ has done for them. In lieu of the choral performances that would be a feature of many Easter services in a more normal time, several churches and groups have re-imagined the Easter choir by forming virtual ones.

In the Pittsburgh, Pennsylvania, area, 30 churches collaborated to virtually sing "The Blessing" by Kari Jobe, Cody Carnes, and Elevation Worship. "There are so many people who have lost jobs and small businesses that are suffering,"  said Alan Hannah, the assistant lead pastor at Allegheny Center Alliance Church. "As church leaders and as churches…we pray this blessing over the city. We truly believe God is going to bring us together and He's going to get us through it."
It took about two weeks to complete the video, but the result is powerful. The song proclaims God's love and favor upon his people, opening with the blessing from Numbers 6:24-26, which says,
The Lord bless you
And keep you
Make His face shine upon you
And be gracious to you
The Lord turn His
Face toward you
And give you peace
Only a few weeks ago, singers in Nashville recorded a virtual rendition of "It Is Well with My Soul" in order to provide hope to people. Here is how other groups have followed suit by re-envisioning the Easter choir to encourage others during this difficult time.
Re-Imagining the Easter Choir for 2020
The Episcopal Church Virtual Choir and Orchestra put together quite a production with its rendition of "The Strife is O'er, the battle done." The church provided vocal and instrumental parts online, as well as advice for the participants regarding how to record themselves. There were over 800 submissions to the project from people all over the world, and the result is stunning.
The triumphant hymn was very fitting for Easter, as the third verse reads:
The three sad days are quickly sped;
he rises glorious from the dead.
All glory to our risen Head.
Alleluia!
Craig Groeschel's Life.Church posted a video of the church's pastors and singers performing a virtual rendition of "Amazing Grace." Said the church, "While we may not be able to gather together in person for Easter, that won't stop us from worshiping together from wherever we are."
Over 300 people around the world with the United Methodist Church performed "Christ the Lord Is Risen Today"—including at least one person who performed in sign language. 
This virtual choir's beautiful rendition of "In Christ Alone" was actually posted in 2018, but it is even more timely now than it was then. The video was produced by David Wesley, who has a YouTube channel featuring a cappella versions of different types of worship music. 
According to CBN News, Wesley is a registered nurse currently working in the ICU to help with the coronavirus pandemic. He said he chose "In Christ Alone" in part because "It's a deeply meaningful song, presenting the gospel in a nutshell." 
Alan Hannah believes these virtual performances are powerful because of how they portray unity and speak about faith. He said, "(God) hasn't abandoned us. He can bring hope, He can bring joy through the most uncertain of times."