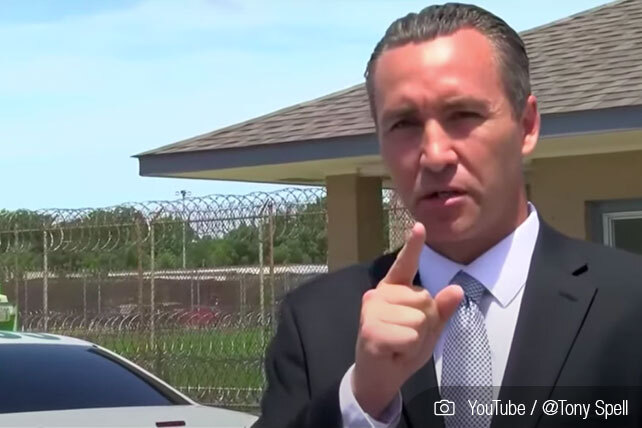 Pastor Tony Spell of Life Tabernacle Church in Louisiana has been arrested, but not because he is repeatedly defying the governor's ban on gathering in groups of more than 50 people. Spell was arrested on charges of aggravated assault with a deadly weapon after he allegedly backed up a bus toward a man protesting outside of the church on Sunday. 
"I am not guilty of any charges that I have been accused of," said Spell, addressing reporters Tuesday after he was bonded out of prison. "I am not guilty of assault with a deadly weapon. I am not guilty of defying any orders. The only thing that I am guilty of is practicing my faith, which was given to me by Jesus Christ himself."
Spell quoted the Declaration of Independence, citing his "unalienable Rights," and explaining, "My rights to have church and preach the gospel of Jesus Christ are endowed to me by my Creator. Not my district attorney, not my chief of police and not my Governor John Bel Edwards. Not my president and not my Department of Justice."
The pastor encouraged Christians in the U.S. not to let anyone dissuade them from meeting in person for corporate worship. "I want to give hope to every Christian in this nation today. You don't let anybody take your rights to go to church. You don't let anybody take your rights to assemble. You stand strong, and don't ever forget Jesus Christ is the savior of this world."

Spell concluded by saying, "I will see you in church tonight at 7:30 where I'm going to preach!"
Why Tony Spell Was Arrested
You can see footage here of the event leading to Tony Spell's arrest. In the video, someone backs a bus toward a protestor, stopping only a few feet away from him. Police records say witnesses also confirmed the incident.
The protestor, whose name is Trey Bennett, was standing on the road (not on church property) outside of Life Tabernacle Church with a sign. Bennett told WAFB 9 News he has been peacefully protesting in front of the church since Easter Sunday, holding various signs. One says, "Coronavirus Incubates. Do not enter! You may die!" 
Speaking to WAFB the Monday before his arrest, Pastor Spell admitted to driving the bus and said he was intending to get out and speak to Bennett before Spell's wife, who was with him, convinced him not to. The pastor claimed, "That man has been in front of my church driveway for three weeks now. He shoots people obscene finger gestures and shouts vulgarities." Bennett denies ever using vulgar language or gestures. 
Authorities have also issued an arrest warrant for Nathan B. Thomas, a Life Tabernacle congregant alleged to have been driving a white truck that swerved dangerously close to Bennett Sunday evening. 
Police released the warrant for Tony Spell's arrest on Monday, and the pastor planned to give a press conference Tuesday morning before turning himself in. The Advocate reports that Spell wanted to have the press conference at the church, but that "At the last moment, the news conference was switched to the Central Police station." Church members followed Spell and church leaders to the station, where officers arrested the pastor before the conference took place. "I was led into a trap," said Spell.
According to Central Police Chief Roger Corcoran, Spell's attorney (Joe Long) was the one who changed the location of the conference. "I guess he wanted to do a press conference, but we weren't here for a press conference," the police chief told reporters. Corcoran also said that Spell had wanted officers to arrest him at the church, but that the chief had refused, saying he wanted to avoid showboating.
Spell was booked into the East Baton Rouge Parish Prison. As he waited to be bonded out, members of his church stood outside the prison, praying and singing. Spell's wife used cash to pay his bond of $5,000 within two hours of his arrest. 
Tony Spell Defies the Governor's Ban
Spell first made headlines for flouting Louisiana Governor John Bel Edwards' ban on meeting in groups of more than 50 people. The pastor has continued to hold worship services that have been attended by around 1,200 people, with the church even busing some of them in. For this, he has been charged with a misdemeanor.