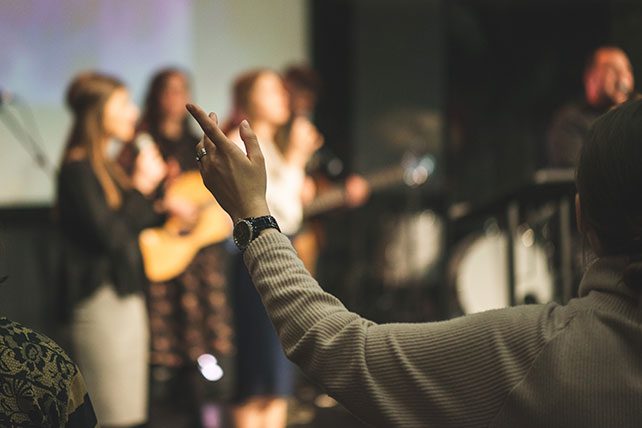 God does what He does when He wants to. There's no special formula to create a worship service with a worshipful atmosphere. But with a humble heart, consider these elements of worship that will encourage an attitude of worship in the hearts of your people.
5 Elements of Worship for a Great Service
1. Pray.
Among elements of worship this goes without saying, but how often do we get so caught up in the job of worship leading that we forget why we do what we do? Pray as you plan, pray as you perform. Pray that God will reveal Himself to the hearts of His people. Ever hear the saying "Work like it all depends on you and pray like it all depends on God"? I think that motto is fitting here. What good is all the work we do as worship leaders if the Lord isn't in it? Why bother?
Ever had a Sunday when everything went like clockwork and the congregation yawned? Conversely, have you ever had things go completely wrong in your service, only to have God show up? (I think He does this to teach us that it's all about Him, not us!) This isn't an excuse to be lazy, I believe in working and planning ahead to avoid a glitch that might distract the congregation.
2. On a foundation of familiarity, throw in something different.
If you generally begin your music with up-tempo songs, try starting once in a while with a mid-tempo song or ballad to build tension, and follow it with songs that rock. This throws the congregation—they get a little antsy during a starting ballad and seem to release their pent up energy when the upbeat songs kick in.
Watch an example of this at Brookwood, the church where I play keys, at 9:13 in the video below. Worship pastor Brantley Smith programmed Tomlin's ballad "I Will Rise" to start our Easter service. Notice how the song starts tenderly with vocalist Julio Ruiz, me on the piano and cellist Sharon Mulfinger Gerber (catch her spectacular pre-service rendition of "Christ the Lord" with her looping pedal at 5:15). It employs the elements of worship: the song slowly builds and continues into an upbeat Easter celebration.
3. Longer, heartfelt prayer.
I remember once when a woman on the worship team prayed a touching, spontaneous prayer in the middle of our praise set that gripped the congregation. I quietly played the keyboard while she prayed, transitioning into the key of the next song that was coming up.