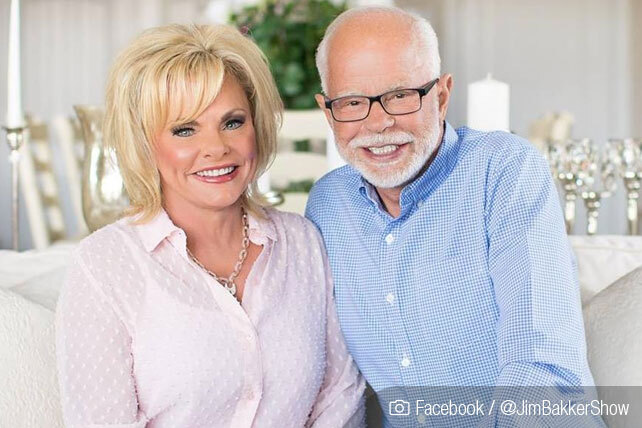 Televangelist Jim Bakker is no stranger to legal trouble. The minister, whose Jim Bakker Show is filmed in Missouri, is being sued by that state's Attorney General for selling a "Silver Sol" supplement he implied could protect against and possibly cure the coronavirus currently plaguing the world. According to Bakker's lawyers, who have filed a motion for the case to be dismissed, the lawsuit represents a violation of religious freedom. 
"Jim Bakker is being unfairly targeted by those who want to crush his ministry and force his Christian television program off the air," Bakker's lawyer, Jay Nixon, said in a statement.
According to the Springfield News-Leader, the motion to dismiss the lawsuit says the Missouri attorney general's suit, by seeking a restraining order, permanent injunction and other penalties against Bakker, does more than just violate Bakker's religious freedom. Bakker's lawyers claim the suit violates the First Amendment and the Fifth Amendment, along with the Missouri Constitution and the Missouri Religious Freedom Restoration Act.
One of multiple lawyers representing Bakker, Nixon served two terms as Missouri's governor from 2009 – 2017 and two terms as the state's Attorney General before that. He filed a motion to dismiss the lawsuit against Bakker on Monday, May 4, 2020. 
The lawsuit was issued by Missouri Attorney General Eric Schmitt's office on March 10, 2020. The suit names Bakker and Morningside Church Productions Inc. as being at fault for "falely promising to consumers that Silver Solution can cure, eliminate, kill or deactivate coronavirus and/or boost elderly consumers' immune system and help keep them healthy." Bakker has been selling this product for 10 years now, a fact which Nixon mentions in his statement. It's important to note that as early as 1999, the Food and Drug Administration (FDA) has warned that over-the-counter products containing colloidal silver (such as Bakker's Silver Sol) "are not generally recognized as safe or effective" for internal or external use.
However, Bakker's lawyers argue that the allegations that Bakker claimed Silver Sol was a cure for COVID-19 are "false." 
The claim in question aired on the Jim Bakker Show on February 12, 2020. Bakker's guest on the show that day was Sherrill Sellman, introduced as a "board-certified integrative naturopath," who implied the product could effectively treat the current outbreak. "Let's say it hasn't been tested on this strain of the coronavirus," Sellman said, "but it's been tested on other strains of the coronavirus, and it has been able to eliminate it within 12 hours."
Nixon's statement says that Bakker merely responded "yeah" to Sellman's comments and did not explicitly say that the product could cure the coronavirus. Additionally, he points to the fact that similar products are available for purchase at Walmart, Amazon, CVS, and GNC, and that those distributors have not been served cease-and-desist orders. "Targeting a Christian pastor, who has been using and offering the product for the past 10 years, is not supported by the facts or the law," Nixon wrote.
Others Take Legal Action Against Bakker
As ChurchLeaders reported in March, other states and federal agencies took action against Bakker due to the claims made about Silver Sol:
The FDA, which has given Bakker and the other companies two days to respond, calls "the sale and promotion of fraudulent COVID-19 products" a "threat to the public health." In particular, it's concerned that fake remedies may cause patients to stop or delay recommended treatment. The FDA is extra-aggressive about scams "during a significant public health issue," says Commissioner Stephen Hahn.
Letitia James, the New York attorney general who sent Bakker a cease-and-desist letter, warns: "In addition to being mindful about our health, we must also beware of unscrupulous actors who attempt to take advantage of this fear and anxiety to scam or deceive consumers." James' office gave Bakker 10 days to comply with the order, which states: "Your show's segment may mislead consumers as to the effectiveness of the Silver Solution product in protecting against the current outbreak."
Since that cease-and-desist order was issued in March, Nixon says Bakker has complied by removing the product from his website and he's stopped featuring it on his show. Additionally, an article which was on Bakker's website titled "Covid-19 Coronavirus, building immunity, staying healthy and the benefits of Silver Solution" is no longer accessible, and a search for the Silver Sol product doesn't produce any results.