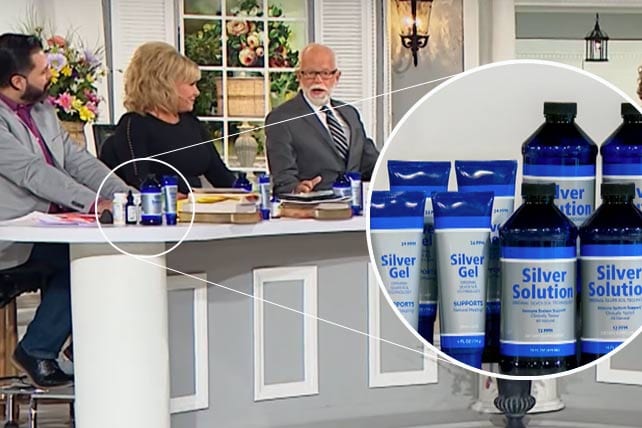 As coronavirus fears escalate, authorities are sounding the alert about fake cures. On Monday, the Food and Drug Administration (FDA) said it has warned seven companies—including televangelist Jim Bakker—to stop selling unapproved treatments for COVID-19, the disease caused by the new coronavirus. New York's attorney general also sent Bakker a cease-and-desist letter concerning the so-called Nano Silver Solution.
Health officials emphasize there's currently no cure, treatment, or vaccine for COVID-19, which has killed 22 Americans and infected almost 600. Worldwide, the death toll is approaching 4,000.
Bakker Touts Nano Silver Solution
For more than a decade, Bakker's TV show and website have promoted Nano Silver Solution, which comes in various forms and reportedly builds the immune system. On the February 12 episode of The Jim Bakker Show, guest Sherrill Sellman, introduced as a "board-certified integrative naturopath," implied the product could effectively treat the current outbreak. "Let's say it hasn't been tested on this strain of the coronavirus," she said, "but it's been tested on other strains of the coronavirus, and it has been able to eliminate it within 12 hours."
The show's website also contains an article titled "Covid-19 Coronavirus, building immunity, staying healthy and the benefits of Silver Solution." It includes quotes from Sellman about the importance of maintaining a strong immune system, plus references to "documented government studies that have been done on Silver Solution." The article promises: "We will soon be providing a couple of these studies on our website."
Although Bakker's site touts the "natural, God-given actions" of silver, experts say it can make other medications less effective and can permanently turn skin gray or blue. The National Institutes of Health says silver not only is an unproven dietary supplement but "can be dangerous to your health."
These Products Are a Threat, Officials Say
The FDA, which has given Bakker and the other companies two days to respond, calls "the sale and promotion of fraudulent COVID-19 products" a "threat to the public health." In particular, it's concerned that fake remedies may cause patients to stop or delay recommended treatment. The FDA is extra-aggressive about scams "during a significant public health issue," says Commissioner Stephen Hahn.
Letitia James, the New York attorney general who sent Bakker a cease-and-desist letter, warns: "In addition to being mindful about our health, we must also beware of unscrupulous actors who attempt to take advantage of this fear and anxiety to scam or deceive consumers." James' office gave Bakker 10 days to comply with the order, which states: "Your show's segment may mislead consumers as to the effectiveness of the Silver Solution product in protecting against the current outbreak."
Lisa Landau, health-care-bureau chief for the New York AG's office, says she's "extremely concerned" about Sellman's interview. She instructed Bakker that all Silver Solution ads must include the following disclaimer: "These statements have not been evaluated by the Food and Drug Administration. This product is not intended to diagnose, treat, cure, or prevent any disease."
Bakker, who served five years in jail for fraud, also sells end-times products such as emergency-meal survival kits. As the coronavirus spreads, survivalists and "preppers" say they feel vindicated for stockpiling necessities.
Price-gouging and shortages are being reported for face masks, cleaning products, and even toilet paper. Experts advise washing your hands often, not touching your face, and practicing "social distancing," especially if you're in a high-risk group for the coronavirus.