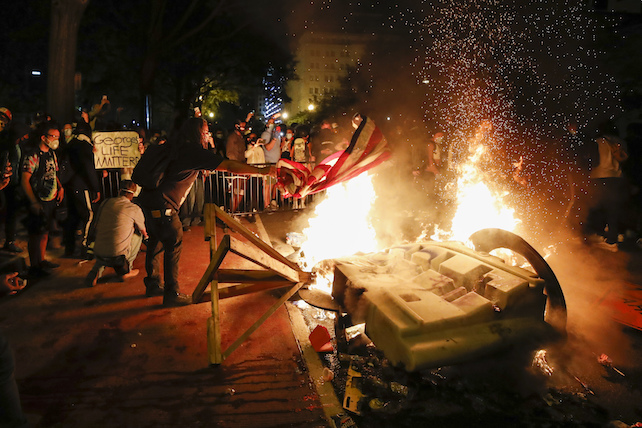 Cleanup is underway today after a weekend of protests and demonstrations throughout America. One of the many buildings that suffered damage is St. John's Episcopal Church in Washington, D.C., near the White House. The National Historic Landmark, built in 1815, is called "the church of the presidents" and has a pew reserved for the Commander in Chief.
Every U.S. leader since James Madison has attended at least one worship service at St. John's, and every president since Franklin D. Roosevelt has attended a prayer service there before being sworn in.
Fire Was Contained in a Basement of 'church of the presidents'
Sunday afternoon in D.C., crowds peacefully protested the death of George Floyd, the 46-year-old black man allegedly killed by Minneapolis police. But as night fell, demonstrations grew violent. In Lafayette Park, where St. John's sits, protesters smashed windows and threw bottles at police. Someone ripped down the U.S. flag outside St. John's and threw it into nearby flames. Another person spray-painted anti-Trump graffiti on church walls. Then shortly before the city's 11 p.m. curfew, the parish house was set on fire.
A fire department spokesman says the blaze "didn't seem to have spread very much," adding, "I guess God was on [the church's] side." No one from "the church of the presidents" was inside during the blaze.
In a Monday update, the Rev. Rob Fisher, the church's rector, reports that the "small fire in the parish house basement" was contained to the nursery. Though other basement areas have smoke and water damage, "the rest of the church and parish house is untouched except for some exterior graffiti, which the city's graffiti team has already covered up."
Fisher expresses gratitude for "the support and messages" St. John's has received, and he requests prayers "for our community and our country." Earlier on Sunday, the rector said the church's "most valuable items" had been secured as well as possible.
Tensions Continue to Run High 
D.C. Mayor Muriel Bowser has set a new curfew time of 7 p.m. for Monday and Tuesday. "We applaud the American spirit of protest," she says. "However, we will not allow the continued destruction of our hometown."
During the peaceful portion of Sunday's protests, D.C. police escorted marchers from Howard University, a historically black school, to Lafayette Square. Protester Elizabeth Betts, who carried a sign reading "Even in the middle of a pandemic, cops are killing us," tells NPR, "We are at a point where it's the same story, the same things are happening. I'm tired of this."
The Right Rev. Mariann Budde, bishop of Washington's Episcopal Diocese, is from Minneapolis, the site of Floyd's death. "There are a lot of things to be heartbroken about," she says, "but obviously we wanted the church to be a place of haven and safety."
Budde, who doesn't support violence or property destruction, urges people to focus on the initial reasons for the protests: racial inequality and police brutality. "A building can be rebuilt," she tweets. "The deeper wounds of our nation remain our focus."
Derek Chauvin, the former police officer charged with third-degree murder and second-degree manslaughter in Floyd's May 25 death, is being held in a Minnesota jail. His first court appearance, initially scheduled for today, has been postponed until June 8.