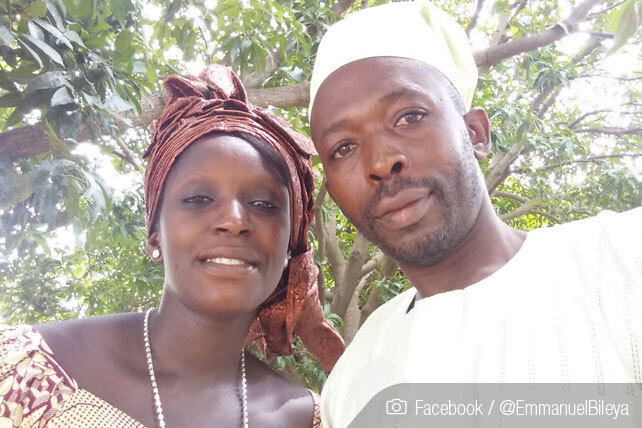 A pastor serving the Christian Reformed Church in Nigeria (CRCN), Emmanuel Bileya, and his wife, Juliana, have been killed. The couple was attacked while working their farm in Taraba state, Nigeria. They leave behind eight children and a congregation full of believers. Just a few weeks ago, Bileya wrote to his friends in the United States asking for their prayers as his town in Nigeria was immersed in a tribal conflict between the Tiv and the Jukun.
"Sometimes I feel like leaving Nigeria to work somewhere else that is more peaceful. I am tired of the insurgencies, communal clashes, armed robbery, kidnappings, poor economic that renders us live hand to mouth, and other serious vices. GOD THE SOVEREIGN IS OUR ONLY HOPE," Bileya wrote in his letter.
Bileya had the chance to study in the United States at two different religious institutions. The pastor attended Calvin Theological Seminary in Grand Rapids, Michigan and The Robert E. Webber Institute for Worship Studies in Jacksonville, Florida. 
Tribal Tensions Between Tiv and Jukun/Itchen
At Calvin Seminary, Bileya studied under John Witvliet, who shared an excerpt from Bileya's letter on his Facebook page. The letter goes into detail about the tribal conflict plaguing the local government area (LGA) in which Bileya lived: Donga LGA, in Taraba State, Nigeria. Bileya, who belonged to the Jukun/Itchen tribe, did not shy away from describing the violence perpetrated by both the Jukun and the Tiv:
Please, pray for my Local Government Area (Donga LGA, in Taraba State of Nigeria). It is a very very serious matter beyond Corona Virus pandemic: It is war. Tiv tribe is in a serious war with my people and where I work (Jukun/Itchen tribe). So far more than 10 of our (Jukun/Itchen) villages have been completely destroyed and people killed. The Jukun/Itchen tribe has retaliated by destroying Tiv tribe's villages and killing their people as well. This war has been going on for about a month now in my area, since April 2020. The Tivs have destroyed our churches and rumoured that they plan to come to destroy the church where I am working at, which is in Itchen town called Mararraba located in Donga LGA of Taraba State in Nigeria. For some time now, many people have fled the town for safety including my family but I have remained in Mararraba praying and hoping for God's restoration of peace and protection of the town and church.
Both the Tiv and Jukun tribes have been majorly sustained by farming and leaving together in Jukun area. The Tiv have been migrating to the Jukun land in mass, looking for fertile farmland. Also, both the Tiv and Jukun people are majorly Christians and both their churches the NKST of Tiv and the CRCN of dominantly Jukun were planted in Nigeria by the same missionaries and are of the Reformed faith affiliation (Calvinists).
The truth is that the war started from a farm dispute. An Itchen man, a member of my branch church in an Itchen village called Gidan-Adamu kindly gave part of his farmland to a Tiv man to farm. But this year, 2020, the Tiv man encroached more into the Itchen man's farmland of which the owner disagreed. A farm dispute resolution committee with a membership of both Tiv and Itchen was set up to resolve the issue. Although yet to be resolved the Tiv man invited a team of 200 Tiv people who came in mass and with guns and forcefully went ahead to farm on the Ichen man's farm. When the Itchen man so them and tried to stop them they beat the life out of him to the point of death leaving laying on the ground supposedly dead with 3 marched cuts on his head. He was brought to a hospital in Mararraba where I visited him in the theatre while the doctors were still stitching his head wounds. He survived. While we were trying to calm the situation in town Itchen youths retaliated by beating a Tiv man on his farm. After this, after 2 days Tivs shot 4 of my church members who decided to leave Gidan-Adamu village to a different peaceful village to look for a job: 2 were killed 2 survived. I buried the 2 boys. In summary, the Tiv people attacked the Gidan-Adamu village 2 times without success but succeeded on the 3rd attempt, they killed some of the villagers and burnt down the whole village with our branch church and the pastorium. The next day the Tiv again attacked and burnt down a neighbouring Itchen village called Gankwe on the same area (where a colleague pastor of our church lost all his belongings + school certificates, he and his family stayed with me for some days before moving to a safer place). The Tiv went ahead to burn down more Jukun/Itchen villages, they destroyed 8 Jukun villages serially. At this, the Jukun youth went to their hideouts to stop them and so we are now in a fullfledged war against each other. The Tivs have succeeded in destroying more than 10 villages of the Jukuns and the Jukuns have also burnt down more than 5 of the Tiv villages. Many lives and properties have been lost.
Bileya went on to explain that he believed there weren't enough security personnel in the region to quell the fighting due to the coronavirus lockdown, the fight against Boko Haram, and "other serious insurgencies" occurring in Nigeria. Witvliet indicates Bileya had been communicating about the ongoing conflicts in Nigeria for several years.