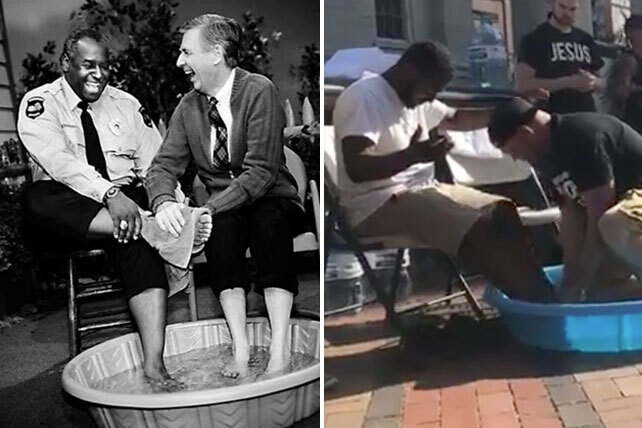 As Americans continue protesting racial injustice, churches in several cities are holding simple yet powerful foot-washing ceremonies. The biblically-based act symbolizes racial and community unity while the country grapples with tough issues such as police brutality and systemic racism.
Foot-Washing Ceremony Is a Way to 'love on the city'
On Saturday in Dayton, Ohio, a foot-washing ceremony (plus the distribution of dry socks) was held in Courthouse Square. Joel Burton, pastor with Simple Street Ministry, opened with prayer for peace and a fresh start, adding that the event was an avenue to "love on the city."
In a kiddie pool, Burton washed the feet of Israel Baxter, pastor of New Hope Life Church. Baxter, an African-American, says despite feeling frustrated by recent events, he clings to hope and goodness. "The darker the night, the brighter the light shines," he says, adding, "If you have a voice of influence, your responsibility is to use that platform to influence people to stay on the right path."
A similar ceremony occurred June 3 in Virginia Beach, Virginia, during a "Healing the Divide" service led by The Rock Church. White pastors washed the feet of African-American pastors, and then they switched roles. Mayor Bobby Dyer says the ceremony "defines the heart and soul" of the town. "We have the faiths coming together, we have races coming together," he says. "This is about community; this is about unity. This is about not tolerating injustice in Minneapolis or any other place."
A First Step Toward Healing
In Cary, North Carolina, Soboma and Faith Wokoma, pastors of Legacy Center Church, organized a Unity Prayer Walk and were "pleasantly surprised" when other faith leaders and the mayor wanted to participate. The couple were among the black community leaders who received foot washing—and words of forgiveness—from march attendees, including police officers.
"We want the body of Christ to come together," says Faith Wokoma. Her husband adds, "Not just to protest, but also to talk with one another. To know exactly what the problems are…so that collectively we can come up with solutions that can help heal our nation, heal our land and our community."
The event is just the beginning, says Faith Wokoma. "As a church, as a community, there have to be some hard talks. We have to get to the table and understand each other."
After Cary Mayor Lori Bush tweeted about the "poignant" event, some people criticized it on social media. She replied that foot washing is "from Christian roots, to renew the cleansing that comes from Christ, and to seek and celebrate reconciliation with another."
Honored to join the many at the Unity Prayer Walk in #CaryNC. Several stops to pray. Poignant moment when @Morrisville_NC Chief Andrews shares her family story & pastors and police stop to wash the feet of black community leaders. #BlackLivesMattter pic.twitter.com/oHt6fWJPuh

— Lori Bush (@loribush) June 6, 2020
Foot Washing Linked to Racial Unity
In addition to its biblical roots, foot washing also is linked to racial unity, thanks to children's TV host and Presbyterian minister Fred Rogers. During an episode of Mister Rogers' Neighborhood in 1969, when many public swimming pools still were segregated, Rogers invited Francois Clemmons, the show's black police officer, to soak his feet with him in a kiddie pool on a hot day. The pair re-enacted the scene in 1993, during Clemmons' final appearance on the show. It concludes with Rogers drying his friend's feet with a towel.