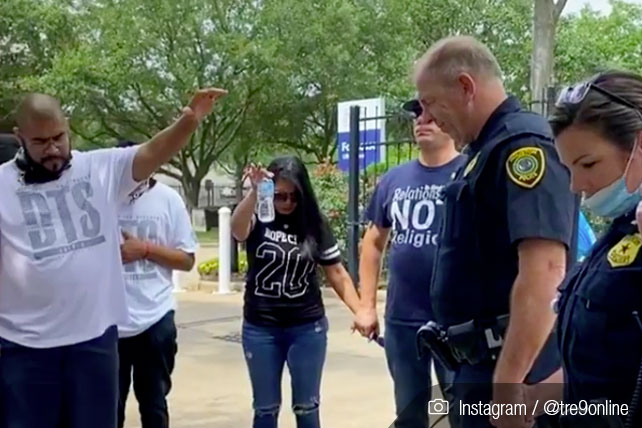 The death of George Floyd at the hands of a Minneapolis police officer has sparked both peaceful protests and violence throughout the country, with some taking out their anger on the police. Many faith leaders are doing what they can to mitigate the tension and to support law enforcement as well as peaceful protesters—and in many cases, the police are responding in kind. 
"Healing starts today…This is what happens when you have pastors come together, when you have religious leaders come together," said Calvin Sparks, who was among 100 African American faith leaders present at a rally in downtown Los Angeles Tuesday morning. 
One of the organizers of the event was Rev. K.W. Tullos, the president of the Baptist Ministers Conference. At one point during the rally, Tullos asked the 500 people in attendance to kneel in honor of George Floyd, and many members of the LAPD joined. "It touched my heart to see those police officers, not only kneel but for them to drop their riot gear," said Sparks, who is the pastor of Life Pavilion Church of God in Christ in Carson, California. "That's the first step to healing, that's the first step to unity, that's the first step to love."
Sparks observed that love covers a multitude of sins and noted that police officers sometimes simply need to hear someone say, "Thank you." There are many officers who do not abuse their authority, and it is important to remember that. 
Some beautiful words from Pastor Calvin Sparks at the downtown LA rally this morning led by black church leaders. pic.twitter.com/MV4xQDImJa

— David Rosenfeld (@RosenfeldReport) June 2, 2020
Religious Leaders Support Law Enforcement Through Prayer
In other places throughout the country, faith leaders are collaborating with local police to alleviate unrest in their communities and are also doing their best to support law enforcement by praying for them. 
Church leaders in Fayetteville, Arkansas prayed for police officers ahead of a protest that took place Tuesday night. 

Around 4,000 people turned up for that protest, reports 40/29 News, during which police officers joined the participants in kneeling in remembrance of George Floyd. Later in the evening, some of the protesters threw objects at the officers, but other protesters stood in the way to protect them.
The Modesto Police Department in Modesto, California, posted this picture of the city's clergy council praying with city leaders and community members, saying, "The community support in Modesto is second to none!"
Ministry leaders in Houston, Texas, are organizing what they are calling "praytests," which are essentially prayer walks throughout the community where participants stop at different locations and pray. During one of these events last weekend, one of the members led a group in prayer for two police officers. 
"Lord Jesus, I just thank you so much for these two officers," said the man, who understood the need to support law enforcement as he himself was the son of an officer. "I know the tension, I know what it's like to pray and wish your daddy would come home tonight. I just thank you that your perfect love casts out fear." The man said that while the role of the officers is risky, it is important, and he prayed that God would give them "incredible eyes of compassion and justice." 
After riots took place in Greenville, North Carolina, on Sunday evening, faith leaders gathered the next day to pray for police officers and protesters, asking that God would protect everyone from further violence. Richard Hagans with Temple of Zion International Ministries said that violence is not the way to combat systemic injustice. 
"I'm getting ready to turn 71 years old in September, and I have seen a lot of this back in the 60's," he said. "We went through the same thing, but one thing about those leaders back then—Martin Luther King and the other leaders, they taught us to do things peacefully." Greenville Police Chief Mark Holzman said he was grateful for the community's support and took comfort from the prayers.
Something similar happened in Arlington, Texas, after a June 1 protest turned violent and looters vandalized several businesses in the area. Vandals also damaged the Arlington police station by setting fire to several American flags and throwing them at the building. Following those incidents, clergy and police officers met on Tuesday to pray for their community, a gathering organized by the Arlington Clergy and Police Partnership. 
On Monday in Brockton, Massachusetts, Police Chief Emanuel Gomes joined the mayor and various faith leaders at a prayer vigil, where the police chief said he supported the rally that was planned for Tuesday. Religious leaders expressed the importance of keeping the gathering peaceful and also prayed for police officers. 
"Thy kingdom come, oh God, in the hearts of the policemen who need to see everyone as your child," said Abraham Waya of the Central United Methodist Church. "Thy kingdom come, oh God, in the heart of the chief of police here in Brockton, and all those who work with him, that they too might see in everyone here a reflection of your beauty."