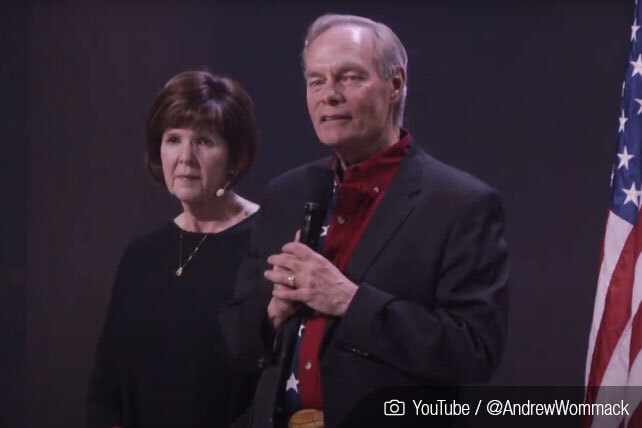 Editor's Note: 7/10/2020: This article has been updated to include statements and information given by a spokesperson for Andrew Wommack Ministries International (AWMI). Additionally, please see our follow-up article about this story and the measures AWMI took to mitigate risk.
---
Andrew Wommack Cease and Desist
Andrew Wommack Ministries International (AWMI) has been issued a cease and desist order from the Colorado state Attorney General. The Woodland Park, Colorado-based ministry was issued the order in the middle of its Family Summer Bible Conference which Andrew Wommack says accommodated about 1,000 people. County officials where the ministry is located had only approved 175 attendees for the conference.
"In light of the fact that protests with thousands had been permitted and even encouraged, and retail stores were allowed unlimited numbers in their stores without near the safety measures we employed, I felt completely justified in what I was doing," Andrew Wommack wrote in a post shared to the ministry's Facebook page. 
On July 4, 2020, the ministry leader told his followers that they had been served the cease and desist order on July 2nd. Wommack explained they received the order with one day remaining of their Family Summer Bible Conference.
Not only did AMWI conclude the family conference after receiving the letter, they also went ahead with another event they had scheduled for July 4th—a patriotic "In God We Trust" Performance. This performance was live-streamed to the ministry's Facebook and YouTube pages, and included a musical depiction of "our great American heritage," a dramatized reading of the Gettysburg Address, and patriotic songs. 
The ministry has since decided to adjust some of its upcoming events. This includes canceling the Kingdom Youth Conference which was scheduled for July 10-11. Additionally, they are continuing to work with county officials concerning any future events: "The college has been working closely with the Teller County Public Health and Environment department (TCPHE) with the goal of developing agreed operational safety plans for all upcoming events."
Wommack believes the content of the Summer Family Bible Conference "must have made the devil mad" and in turn incited the cease and desist letter. The conference included a discussion panel with William Federer, General William Boykin, Tony Perkins, E.W. Jackson, and Janet Boynes. Wommack writes, "we discussed all the current issues of the day in light of what the Bible teaches and made a strong appeal for Christians to get out and vote according to godly principles."
Additionally, Wommack cites an argument many faith leaders have been making lately concerning the double standard that appears to be happening across the country concerning public protests and church services. Some governors and mayors appear to either be turning a blind eye to the protests that are happening over racial tensions (with masses of people crowded in streets together) or they are encouraging it. After Governor Gavin Newsom of California issued a statewide ban on signing and chanting in church services, Rev. Samuel Rodriguez, president of the National Hispanic Christian Leadership Conference, said it's "completely discriminatory" to ban singing in churches after allowing "tens of thousands to march in protest without wearing masks." 
However, an argument can be made that the two scenarios—a church service and outdoor protests—present different risks due to a number of factors. Protestors marching or even sitting outside in the open air presents less of a risk than people sitting in an auditorium or church building together. A camera shot of the crowd at AWMI's July 4th celebration shows participants not wearing masks, sitting close to one another, and singing. These are all things the CDC warns against in public gatherings. 
While it's unlikely that everyone protesting outdoors is wearing a mask, video footage of protests around the country shows many people wearing masks—especially if they are in close proximity to one another. In fact, a case study of a protest in Washington state suggests that attending a party represents a higher risk activity than attending an outdoor protest. A more comprehensive study including data from multiple cities suggests the protests have not led to a spike in coronavirus cases overall. Researchers found "no evidence that urban protests reignited Covid-19 case growth during the more than three weeks following protest onset." However, a spike in coronavirus cases among Los Angeles police officers suggests the protests did contribute to a jump in cases. Gov. Newsom also asked protestors ahead of the July 4th weekend to consider others and stay home from the protests.
As far as what measures were in place to mitigate the risk of spreading the coronavirus during the conference, an AWMI spokesperson told ChurchLeaders the following measures were taken during the conference:
Attendees were given a health screening questionnaire
Attendees' temperatures were checked
Social distancing was practiced between staff and between guests
Personal protection equipment was utilized (masks and gloves for employees)
Appropriate COVID-19 and social distancing signage was used
One-way traffic flow was used
Sanitation stations were placed throughout all areas of the building
Medically-approved sanitation protocols were in place
Additionally, they encouraged attendees to wear masks but did not require them. The spokesperson disclosed many people chose to wear a mask, along with AWMI staff.
Teller County, Colorado, where AWMI and Charis Bible College is located, was granted its variance request to the state's Public Health Order 20-28 Safer at Home that was issued on June 1, 2020. Since the county has a "low level" of confirmed coronavirus cases, gatherings of up to 175 people are permissible, given proper social distancing guidelines were being followed and subject to the approval of the county. State guidelines stipulate only gatherings of 10 people are authorized. 
Teller County does not have a hospital with ICU beds, however, which means critical patients would need to be transferred to hospitals in Colorado Springs in neighboring El Paso County, which currently has a higher percentage of coronavirus cases than Teller county does. 
The situation with AWMI raises a more philosophical question the church in the U.S. is currently grappling with: When do we, as Christians, push for our civil liberties and when do we submit to the authorities?
---
Please see our follow-up article on this story.