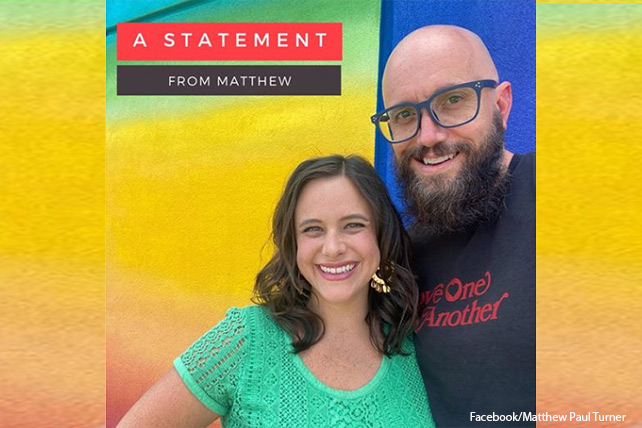 Christian author and former CCM magazine editor Matthew Paul Turner announced on Facebook last week that he is ending his marriage of 16 years to his wife Jessica Turner because he is gay; the couple have three children together. Turner is the the author of over 16 books and is most known for his 2019 release "When I Pray for You" which is a Today, Publisher's Weekly, and Wall Street Journal bestseller. His bedtime family favorite "When God Made You" was an Evangelical Christian Publishing Association Bestseller and was endorsed by Grammy Award winning artist Amy Grant.
Matthew Paul Turner Says Being Gay Isn't a 'new discovery'
Turner explains in his Facebook post that "Being gay isn't a new discovery for me. However, as someone who spent 30+ years in fundamentalist/evangelical churches, exploring God through conservative theologies, I've lived many days overwhelmed by fear, shame, and self-hatred. Though my own faith evolved long ago to become LGBTQ+ affirming, my journey toward recognizing, accepting and embracing myself took much longer. He says that, "for the first time in my life, despite the sadness and grief I'm feeling right now, I can say with confidence that I'm ready to embrace freedom, hope, and God as a gay man."
Matthew says that he wouldn't be able to say any of this without the "undying" grace and support from the mother of his children, Jessica, who is an author and the founder of the popular blog the Mom Creative. He says, "Jessica is and always will be my hero," and expressed that coming out to his children as gay was one of the hardest, yet most beautiful things he's ever done. In her Facebook post Jessica says that their children have taken the news remarkably well.

Turner's desire is to continue to write Children's books; he says "[I] am grateful for the support of my publisher Convergent Books. Writing books about wholeness, hope, and God's love for children is an honor and privilege I do not take for granted."
In his statement, Turner emphasizes that he will block anyone who criticizes his family, theology, or choices. Jessica repeats the same in her statement and adds, "Please don't DM or email me right now. This announcement is hard enough and I cannot manage hundreds of messages."