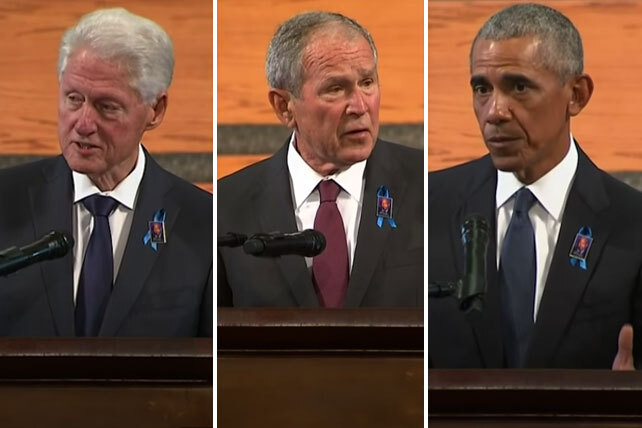 In each of their eulogies for the late John Lewis, former U.S. presidents George W. Bush, Bill Clinton, and Barack Obama each remembered the congressman as a man of deep faith. The theme of Lewis' funeral, held on Thursday July 30, 2020 at Ebenezer Baptist Church in Atlanta, Georgia, was one of hope and love. Whether it was for his faith in God or faith in America, Lewis will be remembered as an exemplary leader who made America better.
Known as a hero of the Civil Rights movement of the United States, Lewis also served as a congressman for 33 years, representing the state of Georgia. It was fitting that Lewis, who helped organize 1963's March on Washington with Martin Luther King Jr., was eulogized at Ebenezer Baptist Church. The church has been a symbol of the Civil Rights movement since Martin Luther King, Jr. co-pastored there with his father, Martin Luther King, Sr. from 1960 until his death in 1968.
Each of the three former presidents who spoke at Lewis' funeral spoke of Lewis as someone who bettered the nation and helped move it toward becoming "a more perfect" one.
President George W. Bush Eulogizes John Lewis
President Bush explained about Lewis' humble beginnings as the son of sharecroppers in Troy, Alabama. Bush described Lewis as a minister, who learned to take care of living things from an early age (in his case, chickens). Lewis "always looked outward, not inward. He always thought of others. He always believed in preaching the Gospel in word and in deed, insisting that hate and fear had to be answered with love and hope," Bush said.
Out of the three presidents who spoke, Bush gave the most attention to Lewis' faith in God:
John Lewis believed in the Lord. He believed in humanity. And he believed in America. He's been called an American saint. A believer willing to give up everything, even life itself, to bear witness to the truth that drove him all his life: That we could build a world of peace and justice, harmony and dignity and love. And the first crucial step on that journey was the recognition that all people were born in the image of God and carry a spark of the divine within them.
Bush also compared John Lewis to the prophet Isaiah who said "Here am I, send me" in response to God's call. "John Lewis heard that call a long time ago in segregated Alabama and he took up the work of the Lord through all his days," Bush explained. His challenge to us to keep ourselves open to hearing "the call of love," service, and sacrifice for others, Bush emphasized.
In a more stirring moment of Bush's speech—one that has heavy implications given our current divisive political culture—Bush explained that he and Lewis had their disagreements as they worked together in Washington, but they still worked together. "In the America John Lewis fought for, and the America I believe in, differences of opinion are inevitable elements and evidence of democracy in action," Bush said to loud applause from the crowd. 
In what became an often-repeated sentiment throughout the course of Lewis' funeral, Bush said: "We live in a better and nobler nation today because of John Lewis and his abiding faith in the power of God, in the power of democracy, and in the power of love to lift us all to a higher ground." 
"John Lewis lives forever in his father's house. And he will live forever in the hearts of Americans who act justly, love mercy, and walk humbly with their God," Bush concluded, alluding to Micah 6:8. 
President Bill Clinton Eulogizes John Lewis
President Clinton focused on Lewis' humanity. "He was after all, a human being. A man, like all other humans, born with strengths that he made the most of, when many don't. Born with weaknesses that he worked hard to beat down when many can't. But still a person…It made him, in my mind, even greater."