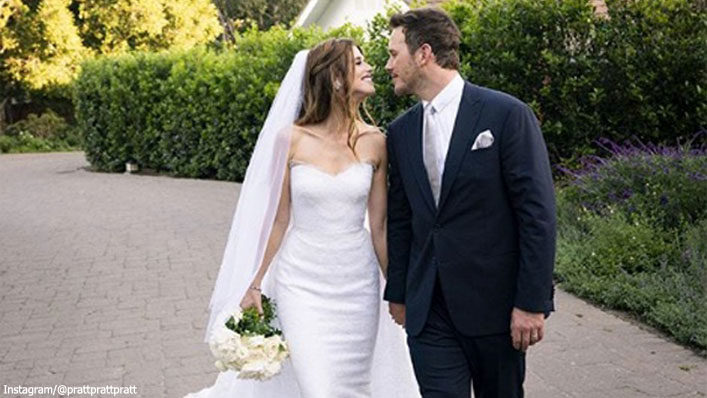 Chris Pratt and his wife Katherine Schwarzenegger (daughter of actor and former governor of California Arnold Schwarzenegger and journalist Maria Shriver) announced the birth of their daughter yesterday on Pratt's Instagram page.
"We are beyond thrilled to announce the birth of our daughter, Lyla Maria Schwarzenegger Pratt," Pratt wrote in a caption of picture showing the baby's hand. "We couldn't be happier. Both mom and baby are doing great. We are extremely blessed. Love Katherine and Chris."
The proud father introduced their daughter Lyla Maria Schwarzenegger Pratt to the world and posted two passages from the Psalms.
The first was Psalm 126:3, "The LORD has done great things for us, and we are filled with joy."
The second was Psalm 127:3-4, "Behold, children are a heritage from the Lord, the fruit of the womb a reward. Like arrows in the hand of a warrior are the children of one's youth. Blessed is the man who fills his quiver with them! He shall not be put to shame when he speaks with his enemies in the gate."
Chris Pratt has been vocal many times about his faith in the past. The Guardians of the Galaxy and Jurassic World star has spoken about the challenges of being a Christian actor in Hollywood. He's also encouraged young people to believe in God at the MTV TV & Movie awards.
Katherine Schwarzenegger and Chris Pratt have attended Zoe Church in Los Angeles. Last year, Pratt drew criticism from other actors who accused him of attending a church that promotes anti-LGBTQ sentiments.
Katherine Schwarzenegger is also vocal about her faith. Earlier this year, she realized a book on forgiveness called The Gift of Forgiveness: Inspiring Stories from Those Who Have Overcome the Unforgivable