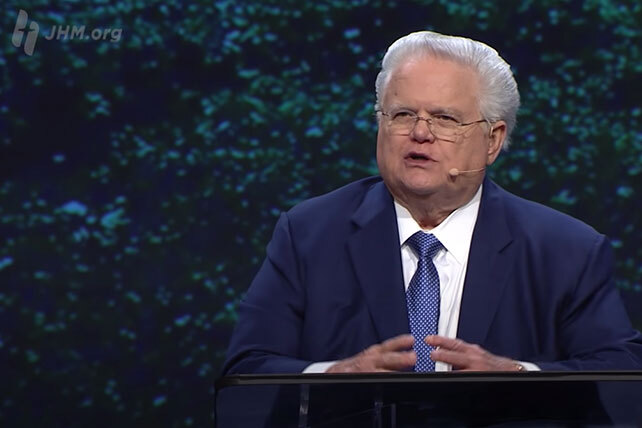 Update (3-25-2021) The ministry of Pastor John Hagee has said the pastor will be receiving the COVID-19 vaccine and has clarified remarks he made last fall. Hagee is the founder of Hagee Ministries, as well as the founder and senior pastor of Cornerstone Church in San Antonio.
"Pastor Hagee himself is taking the vaccine," said Ari Morgenstern, spokesperson for Hagee Ministries, in a statement. "Pastor Hagee believes in both the power of prayer and modern medicine. These are not mutually exclusive."
Hagee tested positive for COVID-19 at the end of September. In November, after being hospitalized for 15 days, he made headlines for saying, "We have a vaccine, the name is Jesus Christ, the son of the living God." According to Morgenstern, these words were taken out of context. Some interpreted Hagee to mean he was advising the members of his congregation not to get the vaccine, but to instead rely on Jesus to heal them. Our previous report by Megan Briggs on Hagee's comments continues below.  
---
(11-18-20) After spending 15 days in the hospital, Pastor John Hagee returned briefly to address his Cornerstone Church in San Antonio, Texas, on Sunday. Hagee, who has been battling COVID-19 since September, credited God for his recovery and said the country already had a vaccine for the "COVID thing" in Jesus Christ.
"I'm sitting in this chair today as a testimony to the healing power of Jesus Christ," Hagee said, while seated beside his son, Pastor Matt Hagee, on stage. 
John Hagee: Jesus Heals People
Hagee said he spent 15 days in the hospital with double pneumonia "and I'm still supposed to be home gasping for air." The fact that he is not at home and able to preach, Hagee said, is proof that Jesus heals people.
Hagee offered a prayer for viewers seeking healing themselves and for those in attendance who knew someone in need of healing. The pastor asked those watching and in attendance to reach a hand toward him or toward the screen and receive the following prayer: 
Father in the authority of Jesus' name, the Jesus who is the Great Physician, the Jesus who died to take away the pain and penalty of sickness and suffering. Now in the authority of that name that's above every name, I bring under the authority of Jesus Christ every sickness and every disease and especially the COVID thing that's sweeping this nation. We have a vaccine, the name is Jesus Christ, the son of the living God. Let him sweep through this country and heal the righteous, who dare to ask for it. Heal our church members. Restore them rapidly. Let the name of Jesus Christ be exalted because he is Lord over all. In his precious name we pray.
Hagee Tested Positive for COVID-19 After Attending White House Event
In late September, a spokesperson for Hagee disclosed that the pastor had been diagnosed with COVID-19 and that he had begun a period of isolation. As ChurchLeaders reported in October, during worship on October 4, Matt revealed the diagnosis to congregants at the church he and his father pastor, which has 22,000 members.
"It was one, discovered very early, and two, his medical team has him under watchful care, and three, he's feeling well enough to be frustrated by anyone in a white coat with a stethoscope," Matt Hagee said. He also mentioned his father "has been diligent throughout this entire COVID pandemic to monitor his health."
On September 15, John Hagee was at the White House for the signing of the Abraham Accords, the deal that establishes relationships between Israel, Bahrain, and the United Arab Emirates. In addition to pastoring Cornerstone Church in San Antonio, Hagee is one of three leaders of the pro-Israel group Christians United for Israel. 
Hagee announced he will be preaching next week. The pastor will be giving a Thanksgiving message about how giving thanks "releases the supernatural power of God."