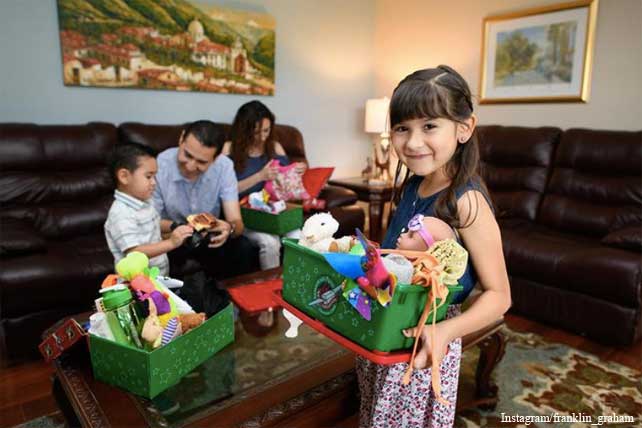 On November 21, 2020 Samaritan's Purse's President Franklin Graham appeared on Fox News' The Ingraham Angle to discuss a Kansas school recently canceling their Operation Christmas Child shoebox campaign because of complaint filed by The Freedom From Religion Foundation, a group which advocates for atheists, agnostics, and non-theists.
After receiving the complaint, Superintendent Helfrich responded saying, "Regarding our students' participation in the 'Operation Christmas Child,' we are discontinuing that effort upon learning that its mission is more sectarian in nature than we realized."
Operation Christmas Child has given out and estimated 200 million shoeboxes over the course of the ministry, Rev. Graham told host Laura Ingraham.
Graham expressed his gratitude to the children at Liberty Middle School in Kansas, and said, "I want to say thank you to the kids…I want to say thank you for anyone that has ever packed a shoebox, and I want people to know that there at Liberty Middle School that you can send your shoeboxes directly to Samaritan's Purse and we'll take them even though your school doesn't want to participate…you can participate."
"I want every child that gets a box to know that God loves them and cares for them," Rev. Graham said. "We don't hide that we are Christians, it's on our website."
Ingraham played a clip from recent guest Pastor John MacArthur of Grace Community Church where he claimed that America is in a moral free-fall saying,
America's in a moral free-fall. Just look at it as I would as a pastor. You murder the babies in the womb, if they survive the womb you try to seduce them into transgender sexual deviation when they're young. If they survive that you corrupt them with a Godless education. If they survive that you have divorce in the family, and if they grow to be adults you drown them in a sea of pornography. This is a nation so far down in the sewer of immorality and wickedness that nothing surprises me. In fact I would be shocked if a judge said "Open all the churches and close all the strip clubs."
The Fox News host asked Rev. Graham if he shared his concerns with Pastor MacArthur's assessment of America. Samaritan's Purse's president said, "I do share his concerns, I think we are in a moral free-fall in this country. The only hope for our country I believe is God, and for that to happen," he continued, "we have to come to Him in repentance…turning from our sins, and putting our faith and trust in Jesus Christ. I think that if we do that God will hear our prayers and heal this country."
"I don't think this country will ever come together," Rev. Graham said after saying he was asked by others what would it take to see the country come together? We are so divided now, he said and it is only going to get worse. "The hatred that we see from many in the public square towards Christians is incredible."
"I'm not going to back down Laura. I'm just going to keep telling people that God loves them, that He cares for them and Christ died for their sins…I'm not gonna back down."
Ingraham closed by saying, "Rev. Graham it should never be controversial to help a child anytime of the year, but especially at Christmas."