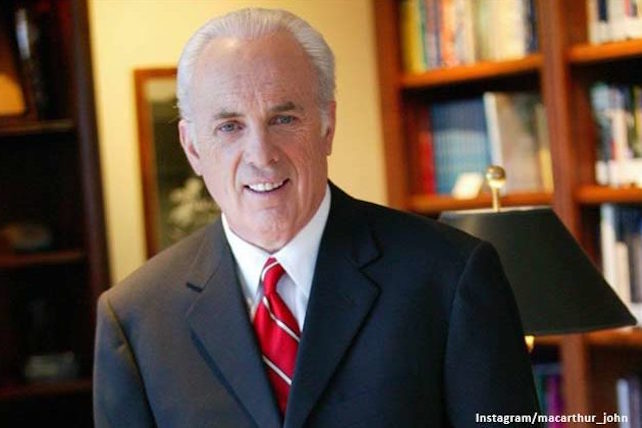 Pastor John MacArthur from Grace Community Church appeared again Thursday November 19, 2020, on Fox's The Ingraham Angle hosted by Laura Ingraham. In September, the pastor told Laura, "If they want to tuck me in a jail, I'm open to a jail ministry. I've done a lot of other ministries. I haven't had the opportunity to do that one…so bring it on!" Since then Pastor MacArthur kept Grace Community Church's doors open for indoor worship gatherings and has not been fined nor put in prison despite a few trips to the nearby courthouse.
On Thursday, Laura asked MacArthur, "How do strip clubs deserve more constitutional protection than churches at this point?" referring to a California judge's ruling that ordered California to refrain from enforcing COVID-19 restrictions on strip clubs because it "violated the businesses' constitutional rights." This led to Grace Community Church's attorney Charles LiMarandi commenting, "You can't pray to almighty God, but you can watch nude dancing," which was made at their court hearing on November 13, 2020.
Pastor MacArthur answered Laura's question very directly by saying,
Ingraham said she was inspired the last time Pastor MacArthur was on her show when he called for churches to be open. She said that as she was a Roman Catholic, not many churches were open and/or were very limited as to who could go. She questioned the pastor on how the Los Angeles Times claimed that Grace Community Church had a COVID-19 outbreak because they chose to defy public health orders, asking what really happened.
Three part-time security guards tested positive for the coronavirus, none of which showed any symptoms, he said. "The Times writer called it an outbreak at Grace Community Church and said that I had mocked COVID and I was getting my due," MacArthur shared. Ten days after being put on the Los Angeles County's Public Health Department's outbreak list, the health department  sent a letter explaining the church had been removed from their website and cleared them of any outbreak restrictions.
John MacArthur stated that over 6,000 people have been at Grace Community Church for months "Sunday after Sunday" with no one sick, in the hospital, or dead. He said, "We're like a living illustration of the narrative of COVID being a lie."
"Power-hungry people are using this emergency to gain greater power…if people don't fight back they are going to fall victim to whatever intention of this revolution is," MacArthur said after being asked what he thought of Governor Newsom defying his own orders by attending a party.
California is currently under strict COVID-19 orders and a 10 pm to 5 am curfew until December 21, 2020. Many churches are not allowed to hold indoor worship gatherings unless they choose to defy California government orders.
Other Church Leaders See It Differently
Pastor Rick Warren of Saddleback Church in Orange County, California does not deny the country is in the midst of a serious pandemic. He has also chosen not to physically reopen the church until conditions improve. In May of this year, Warren told his congregation that under the state's reopening guidelines for houses of worship, Saddleback would only be able to serve about 2,000 of its 30,000 members through in-person services. The church has continued to meet virtually while relying on its strong network of small groups to meet members' physical needs as well as reach out to its community.
Pastor Andy Stanley of North Point Church in Atlanta, Georgia is another pastor that has taken a different approach. Stanley disagrees with John MacArthur's stance that the government is over-stepping their bounds by guiding churches to limit or cancel physical gatherings. Pastor Stanley says that his church is following the example of Jesus by not meeting in-person until 2021. "The church always looks more Christlike when we are defending other people's rights rather than our own," Stanley said in a sermon titled "Not In It to Win It".
Pastor of Capitol Hill Baptist Church Mark Dever obeyed the Mayor of Washington D.C. but chose to file a lawsuit after being denied a request to gather outdoors. The lawsuit praised the mayor for her efforts to protect the community but said, "A church is not a building that can be opened and closed. A church is not an event to be watched. A church is a community that gathers regularly and that community should be treated fairly by the District government."