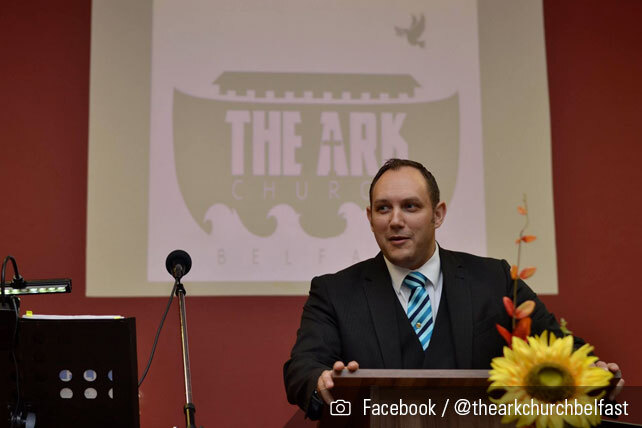 A Belfast pastor who went viral after sharing an awe-inspiring hospital encounter will have his story told on the big screen, thanks to a Christian film producer. DeVon Franklin, known for movies such as Miracles From Heaven and Breakthrough, contacted Lee McClelland, pastor of The Ark Church in Northern Ireland, about adapting his experiences for a Netflix feature film.
The as-yet-untitled movie, expected to release near Christmas 2021, will explore McClelland's recovery from COVID-19 and the unexpected way God encouraged him while in an isolation ward. 
'God sent a cleaner' 
In a video that's been viewed almost half a million times, McClelland describes being seriously ill with coronavirus in March. "I honestly didn't know whether I would make it or not," he says, adding he thought he was moments away from needing a ventilator. McClelland cried out to God for help and for encouragement for his soul.
Although the pastor was in an isolation ward and permitted no visitors, God provided "a ray of sunshine," he says. "When no one else could get in, God sent a cleaner." A man on a disinfecting mission fulfilled a spiritual mission by standing in McClelland's doorway and praying for his healing.
The cleaner, who wishes to remain anonymous, served as a missionary in Nigeria for 14 years and spoke about Jesus' love and salvation. As McClelland recounts, the man "began to ask God the Holy Ghost to visit me. He began to ask God to heal my body and touch my lungs. … He pleaded that God Almighty would spare my life and to continue to use me."
Soon afterward, McClelland's physical condition began improving. The cleaner "periodically would walk past my window and give me a thumbs-up," the pastor says. One day McClelland began craving "cocktail crisps and a tin of Coke," and the next morning, without knowing about those desires, the cleaner gave him a bag containing two oranges, a packet of crisps, and Coke.
"Thank you for hearing the voice of God and reaching someone like me, who needed a touch," says the pastor, who reports no remaining effects of COVID-19.
Film will be 'a story of hope'
McClelland says he consented to the film because he sensed that Franklin was "genuine" and would faithfully convey "the point and the purpose and the content of the miracle." He adds, "It'll be a story of hope in the midst of chaos."
Franklin, a bestselling author and president and CEO of Franklin Entertainment, currently has deals with Paramount Pictures, Netflix, and CBS. The producer, who is Black, has spoken about plans to "create new opportunities for people of faith and people of color."
About this summer's racial-justice protests, Franklin described how Black people get dehumanized, including through some Hollywood portrayals. As a producer, he says he's always looking for true stories that make a case for a loving, caring God. "When we believe in (God), impossible things can happen," Franklin tells The Christian Post. 
McClelland echoes that in his viral video, describing God as "personal" because he knows our every need and the desires of our hearts.