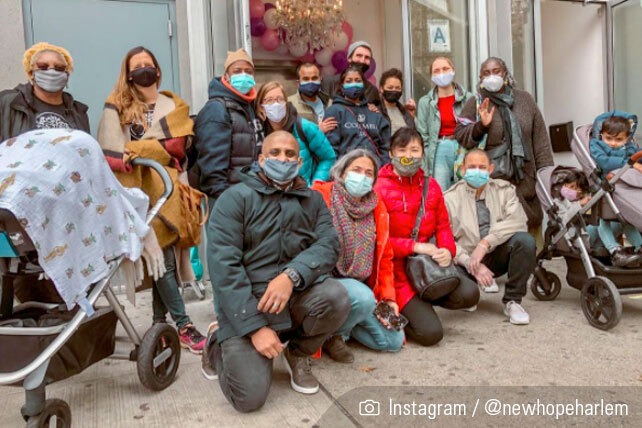 When Pastor Jason James and his team planted New Hope Church in New York City at the beginning of this year, they had no idea that God would use the upheaval of a global pandemic to shape the kind of church they would become. 
"People in our community lost jobs, couldn't afford rent or groceries," said Pastor Jason James. "Local businesses had to close. We all knew someone or knew of someone who died of COVID. And along with all of this was the loss of meaning. But we always wanted to be a church that would share the hope of Jesus Christ with those who lived without him. And we always wanted to serve the most vulnerable among us. And the pandemic, rather than disrupting these plans, became the setting for [them]. It forced us to grow up into the kind of church we dreamt of being." 
Pastor Jason James on Planting a Church in 2020
New Hope Church is part of the Acts 29 Network, which has planted 25 churches this year, despite 2020's unique difficulties. One of those difficulties has been trying to find new ways to minister to people during lockdown. Said Pastor Jason James, "We had no idea that all our familiar methods of [sharing the hope of Jesus] would become impossible. We officially launched on March 1, 2020, but had to stop gathering after two weeks."
For James personally, "The greatest challenge has been finding meaning in the midst of grief and loss. I struggled with depression for months. It all seemed so meaningless that we invested much time, effort, and energy in launching a church that could not gather." It was also unexpectedly hard for him to shift to new ways of connecting with people. 
"I could no longer meet my neighbors in a coffee shop and discuss their questions about Christianity," said James. "I could no longer look into the eyes of the people I have been called to pastor and remind them of God's greatness and love. I underestimated how much I loved our methods of ministry, perhaps just as much or more than the mission."
James realized he was looking for peace in the ministry methods he was used to instead of in God himself. "The Lord was calling me to love him," he said, "the one who first loved me, and therefore, find rest in him. It was out of this place of rest that I found the courage to follow him wherever he leads in the path that he defines."
Jason James and New Hope Find New Paths Forward
In 2019, the New Hope team did not have a permanent location for gathering, and that experience helped prepare them for when their new church was unable to meet in 2020. Said James, it "helped form an identity in us as a people and not a building or a church service." Nevertheless, New Hope still had to figure out how "to find our footing as an infant church plant, while also walking through the profound loss and grief in our community and neighborhood."
The church leaders decided to take the money they would have spent on meeting in person and use it to meet the needs of their members and those in their community. "The Lord strengthened our church to help people who couldn't pay rent, couldn't afford groceries, medical expenses, and tuition costs," said James. The church assisted immigrants who were seeking asylum and helped provide meals for local healthcare workers, postal workers, and police officers. The congregation also provided Thanksgiving meals for 100 families in their neighborhood.
Another service the church offered was mental health counseling—Pastor Jones' wife, Jyothi, is a licensed professional counselor. According to Acts 29 executive director Brian Howard, "This [mental health] ministry was priceless for those who visited the new church plant, and it contributed to their growth." New Hope now has 50 members and averages 300 weekly online attendees.
Not losing sight of the importance of pursuing Jesus in community, New Hope Church started "home groups" in August. The groups follow safety guidelines and meet weekly to watch and discuss the Sunday sermon together. Even though home groups have had to move online again because of the recent spike in COVID-19 cases, James says the groups "became a way to equip people for the work of ministry, while uniting our church under the same vision and teaching, and also create a space for people to experience genuine community."
After navigating how to meet the needs of their community during the pandemic, New Hope leaders had to determine if they were going to carry these same ministries forward into the new year. "The question we had to answer was whether this was an aberration," said Pastor Jason James, "something that we are doing until we can all go back to what is familiar to us. And it has become clear to us that the answer is no. God has used the challenges of 2020 to shape us into the church that he has called us to be. We are a church born in suffering for those who experience suffering."