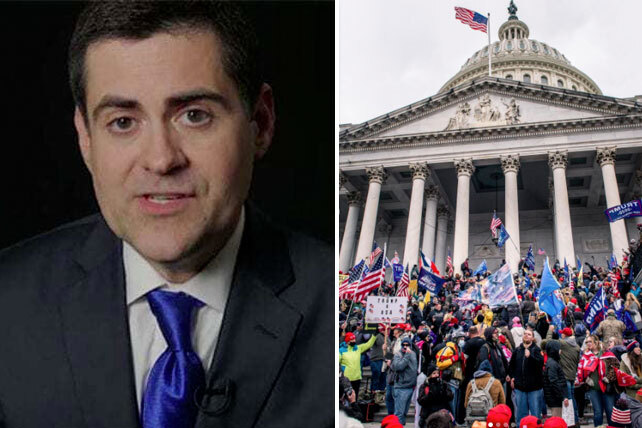 The riots at the U.S. Capitol building on Jan. 6 were not the result of antifa or any other type of conspiracy, says Dr. Russell Moore. While it is understandable that people might be confused about what happened, Moore emphasized that believers must love the truth, be reasonable, and not have an "unhealthy craving for controversy."
"There are sometimes things that happen where we have a fog of not knowing exactly what took place," said Moore in a webinar Friday entitled, "Chaos at the Capitol: A Conversation about Conspiracies and Violence." Moore, who is the president of the Southern Baptist Convention's Ethics & Religious Liberty Commission, noted that during the 9/11 terrorist attacks, "There were at least a couple hours there where people were saying, 'Where is this coming from? Who is it that has attacked us?'" But, he said, "That's not the case here."
"The people that were storming the United States Capitol in many cases gave their names and addresses to reporters and filmed themselves as they were doing it," said Moore. "We know who was there. So there really isn't a question of that." 
Chaos at the Capitol: A Conversation about Conspiracies and Violence from ERLC on Vimeo.
Violence at the U.S. Capitol Building
On Wednesday as members of Congress convened in the U.S. Capitol building to count the electoral college votes from the November election, religious and non-religious protesters rallied in the area to support President Trump and object to Joe Biden's election. Trump himself gave a speech at the rally, during which he encouraged his supporters to march on the Capitol. The rally attendees did so, and then the protest turned violent. Participants clashed with police and made their way inside the Capitol, vandalizing the building and prompting authorities to evacuate Congress members and put the area on lockdown. 
Shocking images of the riot show people swarming into the Capitol. Some wore Trump hats and some carried Trump, Confederate, and American flags. Police ended up deploying tear gas and flash-bang grenades into the crowd gathered in front of the building in order to get protesters to disperse. Five people have died as a result of Wednesday's violence, and U.S. Capitol police officer Howard Liebengood, who responded to the riot, died by suicide Saturday.
Trump has drawn widespread criticism for his initial response to the riot. In a video, he told his supporters, "I know your pain, I know your hurt. We had an election that was stolen from us…but you have to go home now. We have to have peace, we have to have a law and order…we don't want anybody hurt." The president said, "There has never been a time like this where such a thing happened, where they could take it away from all of us, from me, from you, from our country." 
"We love you, you're very special," Trump told his supporters. "I know how you feel, but go home and go home in peace." 
At least seven Republican senators who had planned to challenge the certification of Joe Biden as president changed their minds after seeing Wednesday's violence. Moore has joined others in calling the president to resign, and House Democrats are moving forward with an attempt to impeach him. Multiple social media platforms, including Twitter and Facebook, have now banned Trump. 
Mr. President, people are dead. The Capitol is ransacked. There are 12 dangerous days for our country left.

Could you please step down and let our country heal? https://t.co/wP3niITQv6

— Russell Moore (@drmoore) January 8, 2021