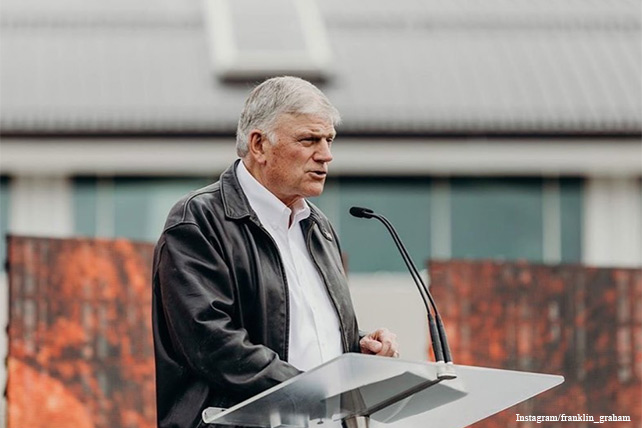 Evangelical leader and Samaritan's Purse president Franklin Graham, who recently acknowledged President Trump's defeat to Joe Biden, gave his thoughts on social media about the House Republicans who voted in favor of impeaching the president for a second time.
The members of the House of Representatives voted to impeach President Donald Trump (232-197) on January 13, 2021 for inciting violence against the government of the United States during the January 6, 2021 riots at the Capitol. 
Ten of those House members that voted in favor of impeachment were Republicans who broke party lines. Rev. Franklin Graham was quick to voice his disapproval by comparing their actions to Judas' betrayal of Jesus. He posted on Twitter and Facebook:
Shame, shame on the ten Republicans who joined with Speaker Nancy Pelosi and the Democrats in impeaching President Trump yesterday. After all that he has done for our country, you would turn your back and betray him so quickly? We have never had a president like him in my lifetime. He gave us lower taxes, a strong economy, and low unemployment. He made NATO take notice and pay their own way. He had the guts to take on North Korea and meet with their leader personally. He didn't let China walk all over us. Just his Mideast peace initiatives in the last couple of months deserve a Nobel Peace Prize. He has defended religious liberty like no president before him, and that matters to all people of faith. He has worked to bring prison reform and secured our southern border. He defeated the ISIS caliphate in Syria, and he strengthened our military. He was also the most pro-life president we have ever had. But the House Democrats impeached him because they hate him and want to do as much damage as they can. And these ten, from his own party, joined in the feeding frenzy. It makes you wonder what the thirty pieces of silver were that Speaker Pelosi promised for this betrayal.
President Trump isn't a perfect person. I don't support or agree with some of the things the President said and did the last couple of weeks. January 6 was a low point in his presidency. We knew he had flaws when he ran for office in 2016. But I, and millions of others, voted for him because of the platform and policies he promised. I still support those. The Democrats have been trying to get rid of the President since the day he took office. What they did yesterday only further divides our nation. I hope President-elect Biden will keep his word and work for unity as he has said.
Graham's Facebook post is getting a lot of attention. As of the publishing of this article, it has over 54k comments and over 80k shares, while over 249k people have clicked on it.
Other evangelical leaders, however, such as Russell Moore, have said they believe the president should be impeached.