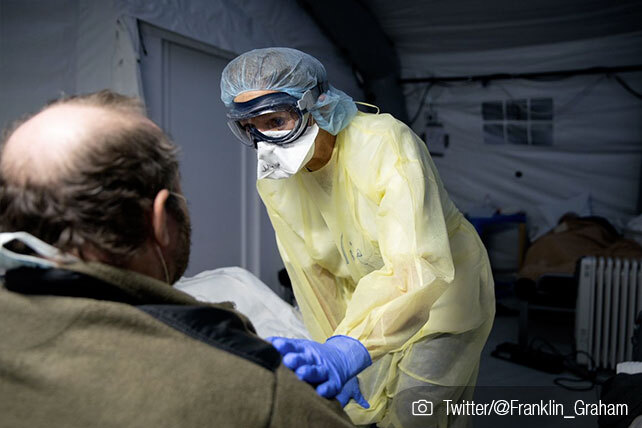 Samaritan's Purse is preparing to close its field hospital in New York City's Central Park. The evangelical Christian nonprofit organization, led by Franklin Graham, is not admitting any new patients as of today and preparing to disinfect and completely dismantle its tents in two weeks' time. The announcement came on Saturday, shortly after New York City Council Speaker Corey Johnson called for the nonprofit to leave the city.
"This group, which is led by the notoriously bigoted, hate-spewing Franklin Graham, came at a time when our city couldn't in good conscience turn away any offer of help," Johnson said in a statement released Friday, May 1st. Despite the city needing the help several weeks ago, Johnson said, "That time has passed. Their continued presence here is an affront to our values of inclusion, and is painful for all New Yorkers who care deeply about the LGBTQ community."
Samaritan's Purse Faces Some Pressure to Leave
Samaritan's Purse has been the recipient of a lot of criticism since erecting the field hospital in April in an effort to assist the Mount Sinai Hospital network. The bulk of the criticism has revolved around the statement of faith the organization requires employees and most volunteers to sign, which defines marriage as "exclusively the union of one genetic male and one genetic female."
Before allowing the nonprofit to operate in New York City, mayor Bill de Blasio said his office would work to ensure Samaritan's Purse contract workers would treat potential patients, regardless of their sexual orientation or faith practices, without discrimination. For their part, Samaritan's Purse communicated they would treat those in need as they always have: indiscriminately. "While we lawfully hire staff who share our Christian beliefs, we do not discriminate in who we serve," a statement from Graham reads.
On Saturday, Mount Sinai announced they were able to dismiss the field hospital now that "the surge in COVID hospital admissions is reaching manageable levels." The statement did not in any way indicate that the dismissal was the result of any breach of trust or disfavor between Samaritan's Purse and the hospital. In fact, the statement said the hospital was "grateful" for the opportunity to work with Samaritan's Purse and called the level of care patients received under the organization's care "high."
The statement indicates a two-week phase out period will give the field hospital time to finish treating its remaining patients and "decontaminate" the tents. Currently, there are Samaritan's Purse workers who are serving at the hospital's Beth Israel location who will also "wind down" their support over these next couple of weeks.
Demonstrations in Central Park on April 14th by the Group Reclaim Pride Coalition called for the removal of the nonprofit due to their beliefs concerning marriage and homosexuality. In addition to Johnson, New York City Council member Carlina Rivera and New York State Senator Brad Hoylman voiced their opposition to any continued partnership between Mount Sinai and Samaritan's Purse.
Protestors showed up again on Sunday at the hospital's Beth Israel location to dissuade the hospital from accepting any more help from the Christian organization. Protestors held signs saying "Stop the hate" and "Islamophobia kills". 
Most New Yorkers Seem to Welcome Samaritan's Purse Help
Despite the disagreements some may have with the organization, though, others have simply expressed their gratitude for what it is doing–regardless of what their statement of faith contains. For instance, Dr. David Reich, the president of Mount Sinai Hospital, is a gay man himself. In a letter to Mount Sinai staff written by Reich and Dr. Dennis S. Charney, dean of the Icahn School of Medicine at Mount Sinai, the two leaders acknowledged the "differences of opinion" they have with Samaritan's Purse:
While we have strong differences of opinion with Samaritan's Purse on this issue, this does not detract from our shared mission to save lives in our wonderfully multicultural and diverse city. While many in this nation could have responded to calls for help, Samaritan's Purse not only responded, but did so in a fashion that no other organization could accomplish so rapidly.
Indeed, Samaritan's Purse acted extraordinarily quickly to erect the emergency hospital. The group drove the necessary equipment from its warehouse in North Carolina to New York City and erected the field unit in a matter of four days with the help of local volunteers. 
Graham has been highlighting other acts of kindness New Yorkers have shown to the field hospital workers and volunteers. Last week, Tonight Show host Jimmy Fallon had food delivered to the workers.
Thank you @JimmyFallon for having these fantastic burgers & fries from @WCKitchen delivered for our team treating COVID-19 patients at the @SamaritansPurse Field Hospital in Central Park. Our staff has been so blessed by the hospitality of people in NY like you. God bless you! pic.twitter.com/bkhv4q4FOt

— Franklin Graham (@Franklin_Graham) April 30, 2020