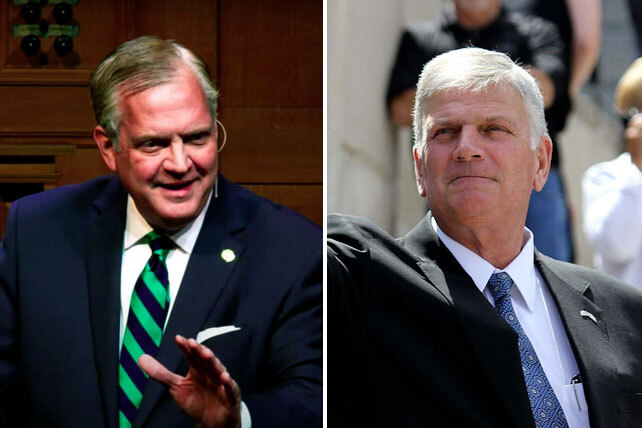 After the Electoral College voted on Monday to approve Joe Biden as president, prominent evangelicals for Trump have publicly acknowledged the sitting president's loss. Leaders who have accepted Trump's defeat include Franklin Graham and Dr. Albert Mohler, the latter of whom implied the president has set a precedent for "a poisonous cycle in our politics."
"It is no secret that I was disappointed in the way that the election turned out," said Mohler, stating that it is important to be sure that votes are counted accurately. However, speaking in his podcast, "The Briefing, the Southern Baptist Theological Seminary president also said, "Once votes are made in the United States, it is virtually impossible that they become unmade. You're looking at the fact, and this has been basically an acknowledged reality of electoral politics on both sides of the aisle for decades." 
Evangelicals for Trump Admit Defeat
President Trump has made multiple claims alleging voter fraud since the presidential election took place on Nov. 3, and Mohler believes it will now become commonplace for people to dispute the results of future major elections. "Every one of these elections is now going to be contested," he said, "every outcome is going to be declared to be illegitimate. We are looking at a poisonous cycle in our politics."
At this point, said Mohler, it is clear who has won. "The fact is that Congress is almost certain to certify the election, and at that point you're going to move forward to a Jan. 20 inauguration…I did not want Joe Biden to be elected president of the United States, but he is now the president-elect."
Samaritan's Purse president Franklin Graham is another one of the evangelicals for Trump who has acknowledged the president's defeat. Graham posted his reaction to the Electoral College's decision on Facebook where, instead of focusing on his dismay over the outcome, he chose to dwell on what he was thankful for from Trump's tenure. 
"People have asked if I am disappointed about the election," said Graham. "When I think about my answer, I have to say honestly, that I am grateful—grateful to God that for the last four years He gave us a president who protected our religious liberties." Graham went on to say that he was thankful to Trump for standing against abortion, supporting the police, building the economy, nominating conservative Supreme Court justices, and not giving in to political corruption.
"I'm grateful for a president and a vice president who recognized the importance of prayer and were not ashamed of the name of Jesus Christ," said Graham, adding, "President Trump will go down in history as one of the great presidents of our nation, bringing peace and prosperity to millions here in the U.S. and around the world." 
Bart Barber, an SBC pastor from Farmersville, Texas, tweeted that he had voted for Trump and that the Electoral College merely confirmed what we already knew: Biden is "the legitimate President-Elect of the United States." Barber said that "learning how to react when God doesn't give you what you want is a major element of Christian discipleship." The pastor believes that when evangelicals for Trump cannot admit that the president lost, it is because they are living out a form of the prosperity gospel. 
"We are tempted to buy the hogwash [of the prosperity gospel] when we didn't get what we wanted," said Barber. "Just like the cancer patient at a Benny Hinn crusade. Just like the person contemplating bankruptcy at a Creflo Dollar meeting."
This is worth pointing out because learning how to react when God doesn't give you what you want is a major element of Christian discipleship. It's the element of discipleship most avoided by the Prosperity Gospel heresy that has taken the lead in claiming Trump won.

— Bart Barber (@bartbarber) December 14, 2020