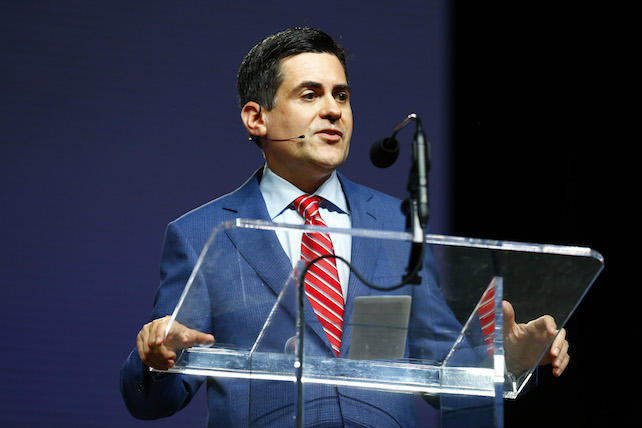 (RNS) — In a long-awaited report released Monday (Feb. 1), a task force commissioned to study the Southern Baptist Convention's Ethics and Religious Liberty Commission calls the convention's public policy arm a "significant distraction from the Great Commission work of Southern Baptists."
Blaming the ERLC for the loss of more than a million dollars in constituent church donations to the denomination, the task force, led by Georgia pastor Mike Stone, quotes the leader of a state Baptist convention as saying, "The ERLC has been a stumbling block not worth the mission dollar investment."
But there seems to be as much politics as economics in the report's conclusions. It notes that in recent years, the fear of a "liberal" drift in the denomination has led some churches to leave the SBC or to withhold giving. Part of that dissatisfaction is aimed at the ERLC, and particularly at the Rev. Russell Moore, who has led the ERLC since 2013.
Though a staunch opponent of abortion and same-sex marriage, two of the issues most important to politically conservative evangelicals, Moore's views on other issues over the course of the Trump administration — most significantly on immigration, race and Donald Trump himself — have landed Moore in hot water.
The report does not call for Moore's ouster, but it does recommend that the ERLC no longer make public comments about any political candidate and only address issues that the SBC has already issued resolutions on.
A spokeswoman for the ERLC told RNS that Moore would not comment on the report, saying that the agency's board of trustees has instructed him not to speak publicly about it.
But David Prince, chair of the agency's trustees, said in a statement that "Southern Baptists can see this report for exactly what it is," and claimed that the ERLC "has served Southern Baptists faithfully during a time of political, cultural and, in some cases, denominational chaos."
Prince added, "Much of this chaos remains with us, including widespread news of many of our Black and brown brothers and sisters leaving the SBC. That should be alarming to all of us. Regardless, all this and more is why I am grateful the ERLC serves our churches with a vibrant and bold gospel witness day in and day out."
The inquiry into the ERLC was set up in February 2020, after members of the SBC's executive committee raised concerns about giving to the denomination's cooperative program, which funds statewide and denominational ministries.
The new report claims that hundreds of churches have either left the denomination or withheld funds. It cites one state where $1,147,000 has been "withheld due to the ERLC." In another state, the report suggests that "$2,448,000" in giving is at risk because of "serious concerns with the ERLC." Committee members did not identify the states or specific churches.
The report also lists a series of direct complaints, among them Moore's opposition to Trump, claims that the ERLC receives funding linked to progressive philanthropist George Soros, the ERLC's stance on cooperating with COVID-19 restrictions, and the agency's support for immigration reforms.