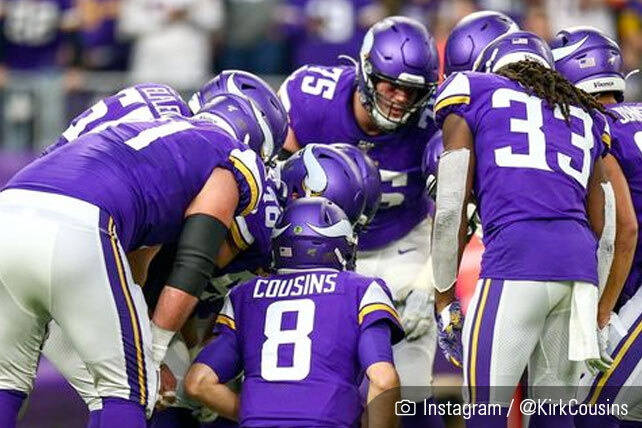 The NFL's 55th Super Bowl kicks off in Tampa Bay this Sunday, February 7th, featuring the reigning Super Bowl champions Kansas City Chiefs (14-2) versus the Tampa Bay Buccaneers (11-5). This year's game represents the first time a team has hosted the Super Bowl in their own city. While the big game makes for good entertainment, the Super Bowl also provides one of the most lucrative opportunities human traffickers and sex traffickers have to promote their dark, criminal trade. However, some see the Super Bowl as a different opportunity: To bring awareness to this great evil of our modern times. One such person is Kirk Cousins.
Outspoken Christian NFL quarterback Kirk Cousins, who plays for the Minnesota Vikings, took to social media to raise awareness regarding human trafficking. Cousins is part of Team Freedom, a pro athlete group with International Justice Mission (IJM) which is a global Christian organization that, according to their website, partners with local authorities to rescue individual victims of violence and restore survivors to safety and stability.
 

 

 

View this post on Instagram

 

 
Cousins told CBS News earlier this week, "I think about how fragile my boys are… and to think that anybody would take advantage of them or harm them, it makes my blood boil to think that does happen to young people all over the world in the tens of millions. It's disturbing." The Vikings quarterback explained operating in the shadows is how the traffickers get away with selling nearly 25 million people worldwide, 1 in 4 of whom are children. 
Minnesota Vikings quarterback Kirk Cousins told CBS News that he thinks of his young sons in the fight against human trafficking https://t.co/UwB7cszUhm pic.twitter.com/r8R0bLLmNH

— CBS News (@CBSNews) February 2, 2021
A preacher's kid who calls faith "the foundation of my life," Cousins said, "If [trafficking] truly is brought to the light and identified for the horrible evil that it is, people will band together to put an end to it."
IJM is partnering with Hillsborough County Commission on Human Trafficking to combat trafficking leading up to and during the Super Bowl. According to WUSF News, efforts to train Uber drivers to recognize possible trafficked victims have taken place, as well as large signs placed in the Tampa International Airport designed to inform travelers of the risks of human trafficking.
Florida ranks third in the nation for human trafficking, according to the Miami-Dade State Attorney's website. The site states that half of the sex victims in the United States are 17 years old or younger, and 96 percent of those in Miami-Dade county are minors who are female. Miami-Dade county is less than a 4.5 hours drive from where the Super Bowl will take place in Tampa.
You can join Kirk Cousins in raising your voice to end trafficking and slavery by signing the pledge here.