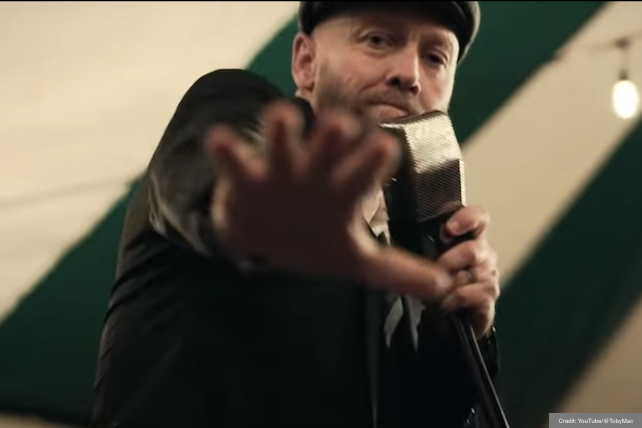 Earlier this month, Christian artist TobyMac performed in one of the first indoor arena concert tours in America (socially distanced, of course) since the pandemic halted all music tours of any kind.
Last week, the DC Talk notable and one of Christian music's most popular artists released his first single of 2021 titled "Help Is On The Way (Maybe Midnight)" along with a brand new music video. The seven-time Grammy winner told Reel Faith's DeWayne Hamby that after the sudden death of his eldest son Truett in October 2019, he did nothing for a few months.
When he was able to return to the studio his creativity was stuck in what he called "sad, teary-eyed ballad-y songs." The tone can be heard in the single "21 Years," which he released less than three months after Truett's passing. TobyMac said he recalled calling out to God asking "What is going on? Is that all I'm going to be able to write? For the rest of my life?"
TobyMac's new song was inspired by a verse in Psalms 98. In The Message translation, Psalm 98 says God "rolled up his sleeves. He set things right," referring to God coming to our rescue. "God is rolling up his sleeves. Help is on the way," TobyMac wrote on Instagram, "It's like the promise of God…the God of all creation rolling up His sleeves on my behalf…our behalf. It felt like promise to me."
The lyrics from 'Help Is On The Way (Maybe Midnight)" read, Well, I seen my share o' troubles But the Lord ain't failed me yet So I'm holdin' onto the promise, y'all That He's rollin' up His sleeves again. 
A post shared by TobyMac (@tobymac)