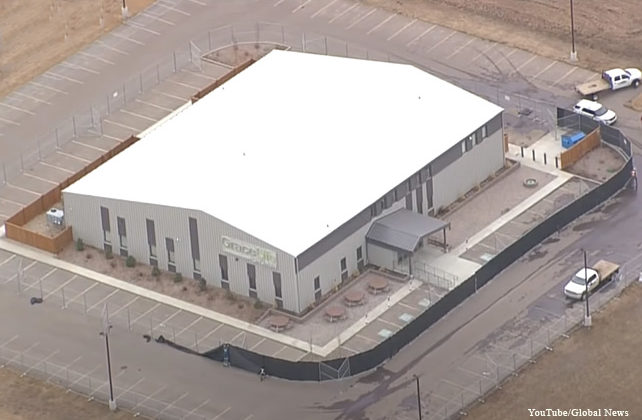 UPDATED June 23, 2021: GraceLife Church in Alberta, Canada, will regain possession of its property on July 1, 2021. The property had been seized by law enforcement on April 7, 2021, because of the church's refusal to abide by the Canadian government's COVID-19 health orders.
Chief Medical Officer of Health (CMOH) orders are set to be rescinded on July 1, 2021. A Twitter post by CityNews reporter Carly Robinson quoted the official statement from the Alberta Health Services (AHS): "As of July 1, all AHS Executive Orders issued in connection with CMOH restrictions will be rescinded, as they are based on CMOH Orders which will themselves be rescinded."
The fencing law enforcement placed around GraceLife Church's property to prevent people from using the facility will be taken down, AHS said. "In terms of GraceLife Church, possession of the premises will be returned to the Church and the fence will be removed."
According to a recent report by Robinson, all tickets and fines the courts are currently processing are still valid although despite restrictions being lifted.
It appears that on Sunday, July 4, 2021, GraceLife Church will freely be able to worship in their building without any restrictions or fear of arrests and fines.
Pastor James Coates' wife Erin posted on her Instagram: "Guys, look what Twitter just told me! Carly Robinson of CityNews reported this. We wait eagerly on the Lord to be back in our facility. Thank you all for your continued prayers, I will keep you all posted ❤️…Now we are just praying the same for Tim Stephens!"
---
UPDATED June 11, 2021: GraceLife Church has filed with the court asking to immediately return to their building. This comes just days after the Provincial Court of Alberta ruled that GraceLife Church's pastor James Coates' rights were not violated when he was ticketed for disregarding the Public Health Act when he held worship services in December of last year.
GraceLife Church's property and building were seized by police on April 7, 2021, and barricaded by temporary fences after worshipers repeatedly broke Alberta's COVID-19 restrictions. Police monitored the property and even got into scuffles when protestors, who were not GraceLife Church members, showed their disapproval for the restriction enforcement.
The church has continued to meet in secret locations to avoid law enforcement closures and fines. It is reported that three GraceLife Church congregants and pastor James Coates are the filers, asking the court "to strike down the public health restrictions." The court filing additionally requests immediate return to the building and disallowing police to interfere with worship services.
---
UPDATED June 8, 2021: The Provincial Court of Alberta has ruled that the constitutional rights of Canadian pastor James Coates were not violated when he received a Public Health Act (PHA) ticket for holding worship services in December 2020. 
"The question today is whether the purpose, manner, or effect of enforcement of that law on December 2020 violated James Coates's religious freedoms," said Judge Robert Shaigec in his ruling Monday, June 7. "The answer is no." Said the judge, "Religious freedoms are subject to the rule of law."
Shaigec also said that Coates, who was jailed for 35 days in February and March, remained in jail of his own volition because the pastor refused to sign a bail order saying he would no longer hold church services: "He chose to remain in jail. It was Mr. Coates' choice to make."
Pastor James Coates to Appeal Decision
Janine Hanrahan with Alberta Health Services (AHS) issued Pastor James Coates of GraceLife Church in Spruce Grove, Alberta, a ticket on Dec. 20, 2020, for not following public health guidelines. The infractions included exceeding capacity limits, not practicing social distancing, and not enforcing mask requirements. In the first part of his trial, which ran from May 3-May 4 in Alberta's capital of Edmonton, Coates argued that the ticket violated his freedom of expression and religious freedom. 
Shaigec rejected the religious freedom argument on the grounds that GraceLife Church was not treated differently than any other religious group, as well as that Hanrahan did not actually interrupt the service when she issued the ticket. Shaigec also rejected Coates' argument that his freedom of expression had been violated based on the fact that Hanrahan had issued the ticket the same day Coates had been critical of civil leaders.
The Justice Centre for Constitutional Freedoms (JCCF), which represents Coates, issued a statement, saying the Centre is "disappointed" with Shaigec's ruling. JCCF president John Carpay said,
It's obvious that government restrictions on people's freedom to worship, assemble and associate are violated by health orders that prevent normal, regular church services from taking place. The judge thought the restrictions were reasonable, which is not the proper legal test at this stage. Whether restrictions are reasonable should only be considered later, after the government has finally produced medical and scientific evidence to try to justify its restrictions on Charter freedoms. An appeal of this decision is being considered, based on serious errors in law.
The constitutionality of the public health orders has yet to be determined. The court will reconvene on June 30 to determine dates for further hearings, and JCCF says the Court might not evaluate the orders' constitutionality until the Fall of 2021.
---
UPDATED May 5, 2021: The trial of Pastor James Coates began today in Edmonton, the capital of the Canadian province of Alberta. The first day of the trial included testimony from an inspector with Alberta Health Services (AHS) and is expected to include an "expert witness" from the Justice Centre for Constitutional Freedoms (JCCF), which is representing Coates.