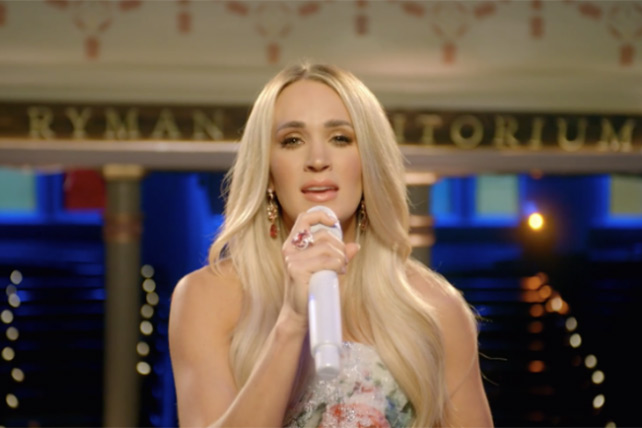 Carrie Underwood took to the stage at Nashville's Ryman Auditorium yesterday to give fans their very own Easter service, with a performance of songs from her new gospel album, My Savior.
The Easter concert, "My Savior: Live from The Ryman," was live streamed on Facebook, and Carrie performed classic hymns like "Softly and Tenderly," "I Surrender All," and "Amazing Grace." The concert also featured special guests, gospel legend CeCe Winans and NEEDTOBREATHE frontman Bear Rinehart, who both appear on the new album.
In conjunction with the Facebook Live event, Carrie's Easter performance aimed to raise money for humanitarian organization Save The Children, which "works in over 100 countries to make sure children all over the world grow up healthy, educated and safe."
As of Monday afternoon, the performance had raised over $105,000 for the organization.
"It means so much to be able to bring this event to people in their homes on a day that holds so much meaning for us spiritually and to be able to raise much needed funds and awareness for the incredible work of Save the Children as we celebrate the importance of family," Underwood said in a news release.
My Savior, which hit stores and streaming services on March 26th, is inspired by the Christian hymnals Carrie says she grew up singing in church.
For the 38-year-old songstress, singing gospel songs like the ones she intentionally chose for My Savior, carry a much different significance for her than the ones she performs on the country music stage.
"When I made this album, I'm performing for an audience of one," she told Noel King. "I'm gonna cry talking about it, but… The whole time I was in the studio, any time I get to sing these songs, I close my eyes and I'm the only person in the room. It's my heart for God. And I love that. It is a different feeling. It's happy and it's deep. And I feel like I'm making my relationship better and deeper with God when I'm singing these songs. So they're just so important for my heart."
You can catch Carrie's full Easter performance on Facebook until Tuesday.