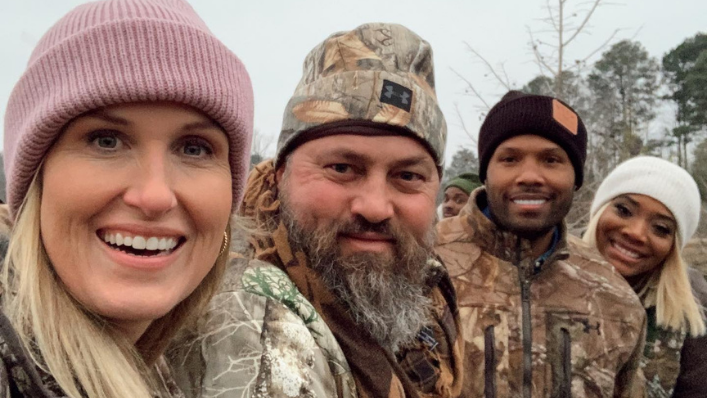 In their new series, At Home With the Robertsons, Willie and Korie Robertson are tackling the difficult issues our country is facing—one hard conversation at a time.
The series premiere, which debuted Monday on Facebook Watch, featured Love and Hip Hop stars Yandy and Mendeecees Harris. The Black couple shared their perspectives on racial tension, and parenting a child of color with Korie, Willie, and their 19-year-old son Will, who is biracial.
Will was adopted by Korie and Willie when he was just 5 weeks old. His biological father is Black while his biological mother is white.
Willie said when he and Korie first started looking into adoption they were told there was a wait list of 1-2 years, unless they were willing to adopt a child of color because they are so difficult to place, specifically in the south. The Monroe, Louisianna couple just wanted a baby to love as their own and were able to adopt Will right away.
"We didn't think about [race] until the show happened," Korie explained, "and people said, 'Wait. Who's the Black kid? Who does he belong to?'"
The Robertsons first became a household name in 2012 with their hit reality show, Duck Dynasty, which followed their adventures of running Duck Commander, the best-selling duck call brand in the United States. At that time, Will was 10 years old, and people made a lot of "ugly comments" about him.
"I was one of the only Black kids in my grade," Will said. "My friends were white, so I didn't, like, get the notion that I was … different. I would look at myself in the mirror and be like, 'Oh, I'm just a little bit darker."
It wasn't until he got older that Will realized he was "a lot different" than the rest of his family, and the friends he grew up with.
Yandy, who has two children with Mendeecees and shares two of his children from previous relationships, told Will that it's important for him to learn about his culture.
"Your heritage is mixed, so it can't just die because you've been brought up in a different place or, you know, with a different group of people that love you," she said, "because you have to be able to pass down your heritage as well."
She encouraged Will to be connected both to his family, who are mostly white, but also to the Black culture in part as well.
The five spoke candidly about the racial tension that's very present in the deep south.
"To me, it's always shocking," Korie said of encountering racism. "I remember when the Charlottesville thing happened. It's just so sad to me and, you know, having a son that's Black and biracial, just to, you know, have to explain that to him, you wanna just say, 'Oh, no, no, no … that's in the past. But whenever it's right there in your face, you're like, 'No, it's not in the past'."
Mendeecees asked Korie and Willie whether or not they worry about Will being pulled over by the police. "Did you teach him how to conduct himself if that happens?" he asked.
Willie said he's never worried about that circumstance with any of his kids, adding that they raised them to be respectful to any type of authority.
But Yandy pushed back, telling Willie that there's a difference between respecting authority, and being Black in the face of authority.
"You haven't had to think about that, but these are the kinds of conversations that [Mendeecees] has to have with his sons," Yandy said. "We can cut off the beard. We can not get tattoos, and we can prevent those things from happening but you can't wash off your skin."
Mendeecees said he stresses that his sons should simply comply with orders from law enforcement.
Yandy added: "It's not what your education level was, it's not if you're in the process of committing a crime, it's not always even what you're wearing. Your skin color, your hair texture precedes all of that, unfortunately, in America. There's kind of just an unspoken law, unspoken way you conduct yourself so that you won't get murdered or get beat up or get arrested."
The Robertsons were encouraged by the exchange.
"I did not necessarily have a talk with Will about police," Willie said, "because I felt like I covered that his whole life about respecting authority. However, that's why we brought Yandy and Mendeecees here. They had a different perspective."
Korie said that conversation was an important one for her son to have with a Black man.
"As parents of a child of color, you don't know what you don't know," she said.
You can catch the full conversation on Facebook Watch. 
This article originally appeared here.