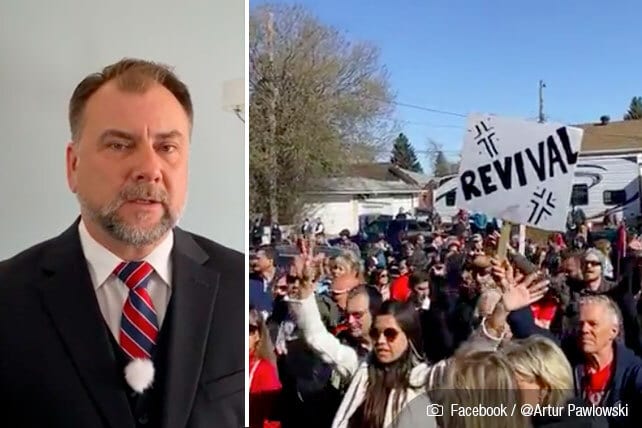 Residents of the neighborhood surrounding the Street Church, led by Pastor Artur Pawlowski, are claiming that the members have been threatening and harassing them for the past several weeks. Pawlowski says that this assertion is an "absolute lie."
"Here's an interesting hit piece from the propaganda machinery, the Calgary Herald!" said Pawlowski in a Facebook post about a report from Postmedia Network. The report, published in the Calgary Herald, covered neighbors' reactions to the Street Church over the past several weeks and referred to an outdoor protest held in front of the church on Saturday.
"The event was witnessed by hundreds of people that were present and seen by thousands watching live on Facebook!" said the pastor. "However, that did not stop this hateful, lying  communistic propaganda Trash, the so-called newspaper, from making stuff up! We have to remember that this is what they have been paid to do! To Lie!" Pawlowski then posted a link to the protest and challenged people to watch it for themselves. 
Pastor Artur Pawlowski: Today Is a Showdown 
In a video introducing Saturday's protest, Pawlowski said he and his church were "fighting the tyrants" and that "today is a showdown." The pastor, who has been violating public health orders, recently made headlines for chasing health inspectors and police officers off his church's property while calling them "Gestapo" and "Nazis." He did this on Easter weekend, as well as on Saturday, April 24. "You came in your uniforms like thugs," he told officials on the latter occasion. "That's what you are. Brownshirts of Adolf Hitler. You are Nazi Gestapo, communists, fascists. I do not cooperate with Nazis." 
"Hopefully, I will not be arrested today," said Pawlowski prior to Saturday's event, adding that he has every intention to work with authorities—so long as they follow the law. "I hate corruption, and when I see them breaking the law, everything in me rises up and says 'No' and "Get out." 
The reason the pastor expressed concern about being arrested is that Rebel News has learned there is a warrant out for his arrest. The warrant authorizes officials to "do anything necessary to carry out the arrest, including the use of as much reasonable force as may be necessary to make the arrest." No arrest has been made as of the time of this writing.
Saturday's rally featured loud music (including many worship songs), speeches, and prayer. One point that is clear from the video is why people who live nearby might be irritated by such a loud event being held right beside their homes. 
A pastor announcing some "housekeeping" guidelines at the beginning of the protest observed that the Calgary Police Service was present. "God bless, God keep them safe," he said. "We thank them for their service to this country, to this city." He said that police officers and any health inspectors who might show up that day "were welcome." He also read a legal notice recommending that all attendees follow health restrictions, including social distancing and mask-wearing. This advice drew laughs from the audience. Most of the attendees were not wearing masks, and few seemed to be practicing social distancing. 
At the beginning of the event, Pawloski walked through the crowd meeting and greeting people, while those present clapped and sang along to the music. Protesters carried signs that said, "Jesus Saves," "Freedom! Not Fascism!!" and "Open the churches!" Some carried Canadian flags, while others wore caps that said, "Make Canada Great Again" and "Make America Great Again." 
Footage also showed that a residence next to the church was displaying flags, including a pride flag. According to Postmedia, some of the church's neighbors had set up a sort of counter-protest at the house with signs that said, "Street Church is a Hate Group" and "Love Thy Neighbour."
Neighbors File Police Report
According to Street Church's neighbors, the antagonism they have faced from the church's members has been enough for some of the residents to file a police report. One of the residents, Michelle Robinson, told Postmedia, "Our neighbours here have been threatened for at least seven weeks by these anti-maskers who are violating health regulations and spreading messages of hate." She used the word "terrorized" to describe the church's behavior to the family that lives next door to it.