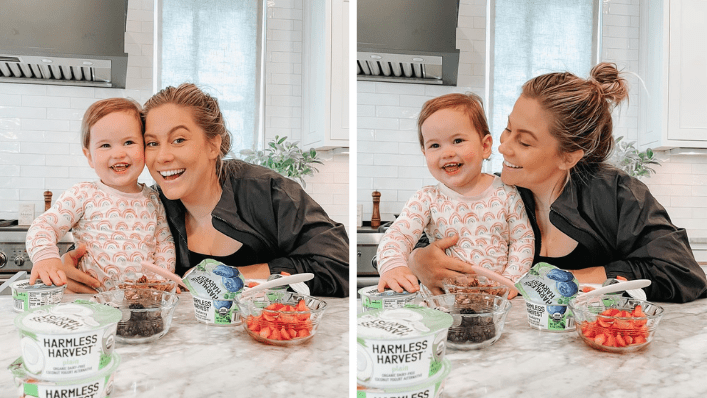 If there's one thing that every mom can relate to, it's mom guilt. It doesn't matter if you've been a mother for five years or five minutes, that deep and heavy feeling that we're not doing enough for our kids has a way of swooping in when we least expect it.
For Olympic gymnast Shawn Johnson East, the mom guilt was REAL on Sunday morning.
The 29-year-old, who shares 18-month-old daughter Drew with her husband, Andrew East, took to Instagram with a confession of mom guilt that all of us moms can relate to on SO many levels.
"Mom confessional…. I spent half of church crying in my chair because Drew was sad going into Sunday school this morning," Shawn, who is also pregnant with her second child, wrote in an emotional and relatable Instagram post. "It's probably just pregnancy hormones, but the amount of mom guilt I felt killed my soul."
Even the confirmation that Drew was perfectly fine in Sunday school, didn't pull Shawn's heart out of the deep trenches of mom guilt.
"They texted us 2 minutes later to say she was happy and playing, but I still continued to cry. It's sometimes so hard to handle all of the love my heart feels for this little human and I never want to make the wrong decision for her," she wrote. "Andrew quietly held my hand as I pulled myself back into the reality that she is OK and this is normal. But dang… my heart."
Shawn, who is due with her second baby, a boy, this summer, has often been on the receiving end of mom shaming. But when it comes to mom guilt, it's murky waters that we most often put on ourselves.
It's an impossible feeling to overcome, but we know through Christ that we are good enough, we are doing enough, and we are stewards of these beautiful little humans He's trusted us to lead. He never leaves us hanging, and He gives us everything we need to squash those feelings of mom guilt when they attack.
May you feel seen and encouraged by Shawn's raw post today, and remember Mama, you ARE enough.
This article originally appeared
here
.