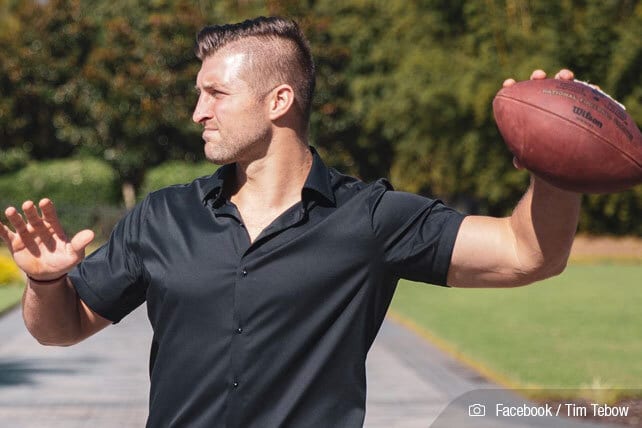 Numerous sources report that Tim Tebow is returning to the NFL. The Heisman Trophy winner and former Broncos quarterback will reportedly sign with the Jacksonville Jaguars as a tight end. If he does, Tebow will reunite with his former coach, Urban Meyer, and join fellow Christian, Trevor Lawrence. 
"The #Jaguars are planning to sign QB-turned-TE Tim Tebow to a 1-year deal, per me and @TomPelissero, a deal that could be official in the next week or so," said NFL Network reporter Ian Rapoport. "Nothing done yet. But he'll have a chance to make the team to reunite with his mentor and college head coach Urban Meyer."
Is Tebow Joining the Jaguars?
Earlier this year, Tim Tebow retired from professional baseball after five years as a minor league player with the New York Mets. The news that he might sign with the Jaguars has not been without controversy. 
Some have taken the reports about the potential signing as a chance to once more compare Tebow, who kneeled before football games in prayer to God, to Colin Kaepernick, who kneeled during the national anthem in protest of racial injustice. Quite a few people have interpreted Tebow potentially being signed and Kaepernick not being signed anywhere as an example of white privilege, but others see no reason for that comparison. 
Still others point out that Tebow is now 33, has not played a regular season with the NFL since 2012, and has never played professionally as a tight end. For these reasons, some question what Tebow would bring to the Jaguars. If he does join the team, however, he will reunite with his former coach Urban Meyer, whom Tebow played under while at the University of Florida. Meyer shared on the "Cris Collinsworth PFF Podcast" that Tebow's athletic prowess and drive are what have led him to consider Tebow for the Jaguars. 
"We have not signed Tim," said Meyer. "There's a thought going around. He was in the best shape of his life, asked to see if he could work out with a couple of our coaches. I wasn't even there. They came back to me and said, 'Wow, this guy's in incredible shape.'"
After watching Tebow work out again, the coaches told Meyer, "This guy's ball skills, he's a great athlete, he looks like he's 18 years old, not 20, whatever he is, 33." Meyer responded, "Guys you don't understand, now this guy is, he's the most competitive maniac you're ever gonna talk to and let's give it a shot."
Tebow said in a recent Instagram post that his drive to stay in shape comes from his view that he is responsible before God to be a good steward in every area of his life. "I get a lot of questions on how I stay consistent with my diet and workout regiments [sic]," he said. "Typically, a lot of people think that my discipline is from my athletic background. To be honest, that is partially true. But I think for me, I try to stay disciplined because I also want to be the best I can be in every area of life so that I can be a good steward of what God's given to me."
If Tebow signs with the Jaguars, he will also join fellow Christian Trevor Lawrence, a former Clemson quarterback and the number one pick in the overall 2021 NFL draft. Lawrence is outspoken about his faith and has said, "Football's important to me, but it's not my life. It's not the biggest thing in my life…I put my identity in what Christ says, who he thinks I am, and who I know that he says I am."
Tebow has made similar statements. He is well known for his philanthropic work, and last year at a pro-life banquet, he commented on how fighting to save children's lives far outweighs anything someone could achieve in the realm of football: "One day, when you look back and people are talking about you and they say, 'Oh my gosh what are you going to be known for?' Are you going to say Super Bowl, or we saved a lot of babies?"