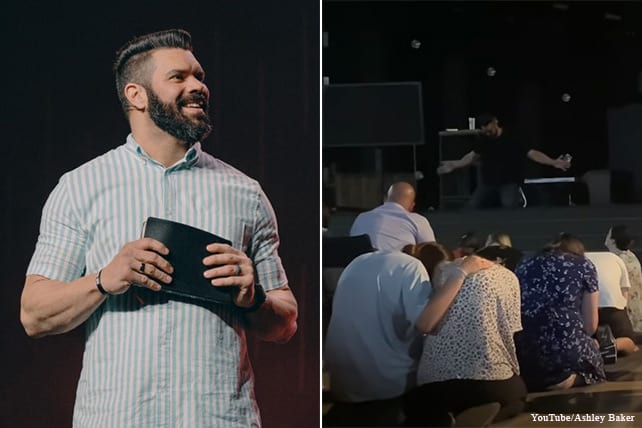 Pastor Robby Gallaty of Long Hollow Baptist Church in Tennessee posted Sunday on his Facebook page a testimony of how God worked in spite of a full-blown power outage that took place during their 11:15 AM service this past Sunday.
"We just encountered something I haven't experienced before at Long Hollow or at any church for that matter," Gallaty explained. He said the event happened while he was preaching on 2 Corinthians 3:17-18, where Paul tells the Corinthian church: "Where the Spirit of the Lord is, there is freedom. We now with unveiled faces are looking at the glory of God are being transformed."
Gallaty said halfway through his sermon, all the power went out. "The back-up lights continued to work for 15 minutes. Unbeknownst to us, the transformer caught on fire, and blew out at the substation right when I was ending my sermon. We heard a loud bang, and then, boom! We were sitting in pitch-black darkness."
Having never been faced with this type of scenario before, the pastor said most people took out their cell phones and turned on their flashlights, lighting the room. Gallaty considered ending the service, thinking, The power is out, my TV is out, my mic is out, the worship team can't play their instruments, so I'll just close the service in prayer.
'The Enemy Will Not Get the Victory'
As the pastor prepared to say, "Let me pray as we close the service," Gallaty said something stopped him. Instead, he said, "We are not going to let the enemy get the victory today." Gallaty said he listened to the Holy Spirit's prompting and changed course. "What happened next was unreal," he said.
Because the there was no electricity, the only power was the sound of his voice, so he began yelling so everyone in the auditorium could hear him. Gallaty invited anyone in the congregation to come forward who needed to be set free from addiction, resentment, bitterness, shame, guilt, porn, drugs, pride, or any other sin that might have a foothold in his or her life.
"There was a palpable presence of God," Gallaty said, as he knelt to pray. The pastor began to uncontrollably weep as many in the audience also came forward to the altar and began to weep.