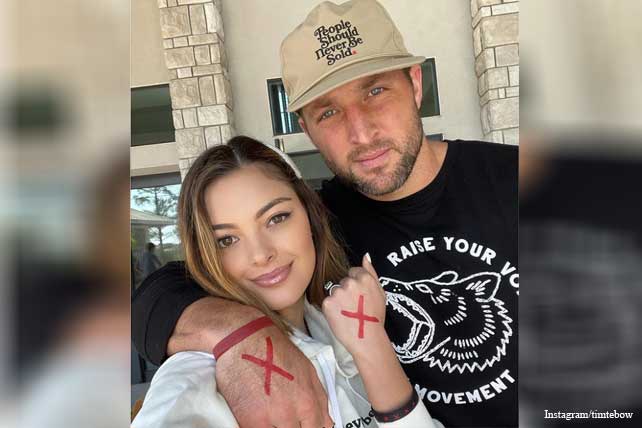 Twenty-six-year-old Demi-Leigh Tebow, wife of Tim Tebow, shared an emotional video on the couple's Tim Tebow Foundation's Facebook page, recounting her attempted abduction that took place four years ago.
Demi-Leigh Tebow Shares Her Story
The video was posted for Tebow's birthday campaign to raise awareness for human trafficking and $26,000 for Her Song, a non-profit organization that fights human trafficking and cares for trafficked survivors. In 2020, the Tim Tebow Foundation and Her Song aligned to fight human trafficking together across the globe.
"I never want to victimize myself. But I pray my story serves as a reminder of the countless individuals in need around the world. People who need someone to just step up. This is my story."
Tebow explained that not long after she had been crowned Miss South Africa, she was sitting at a red traffic light in a South African city she does not name, dressed up for an event. Suddenly, five armed gunmen surrounded her vehicle. "I didn't know exactly what they wanted from me," she said. "But I knew it wasn't good."
Raising her hands to show the men they could take whatever they wanted, Tebow said in that moment she realized her material possessions were no longer important. She attempted to run from the gunmen, but one forced her back into the car. "Get in, you're going with us!" she recounts the man shouting. Tebow said she knew in that moment her next actions were critical. She told her would-be abductor: "No. I'm not. I'm not going with you. I don't care if you shoot me, if you kill me. But I'm not going with you."
The 2017 Miss Universe pageant winner said she did "her best" to survive the encounter, punching the gunman as hard as should could in the throat. She then abandoned her vehicle and ran up the avenue in heels during "peak-hour traffic" with people and cars everywhere in broad daylight. Fearful she would be shot in the back, Tebow said she knocked on 30 to 40 car windows pleading for help. She said the worst part of her story isn't that she was attacked, but that not one car stopped. "Not one person stopped to help."
"I don't know what was more terrifying — being attacked by these five armed men, or not getting any help," Tebow said. Finally, a small, older car pulled over and a girl yelled for her to get in.
Tebow said, "If it wasn't for that young girl, who was 19 years old at the time, I don't know what would have happened…That courageous young woman risked her own safety to help me," she explained. "I will forever be grateful to her."
Tebow: Be the Person Who Leads Someone to Safety
Encouraging listeners to be as courageous as the girl who helped her, Tebow urged listeners to not be the person who "shoves someone away, who rolls up your car window when someone is begging you for help." Tebow says, "Be that person who leans over, and opens up your car door, and lets that person in, and leads them to safety."
"We need you. More importantly they need you."
Tebow's emotional story comes as part of her birthday campaign, which in less than a week has raised more than $200,000, well surpassing its original goal of $26,000. Tebow said in an Instagram video, "It seems so unreachable to impact 40.3 million lives that are trapped in human trafficking as we stand today. But what makes it worth it to me is knowing that even just one life is worth it and deserves us speaking up for them…fighting for them."
The Tim Tebow Foundation has been waging war on human trafficking since 2013.
Watch Demi-Leigh Tebow's story below: