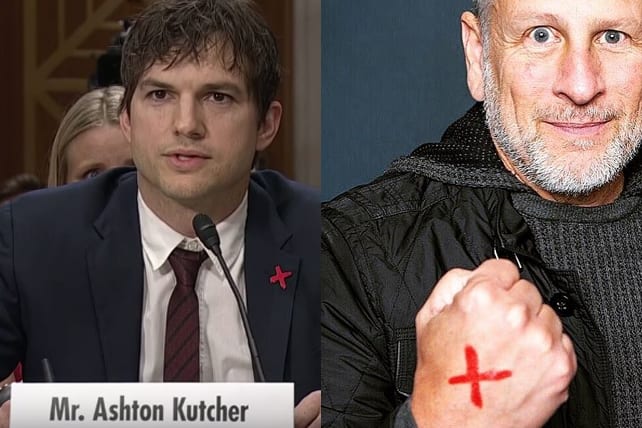 Today, February 23, 2017, you may see several of your friends as well as pastors, leaders, athletes and celebrities—Christian or otherwise—posting pictures of themselves with red X's on their hands. The purpose is to "Shine a Light on Slavery."
Earlier in February, actor Ashton Kutcher testified before the Senate Foreign Relations Committee in Washington, DC on the topic of human trafficking. Known for his more light-hearted work like the widely popular TV show Punk'd, seeing the actor in a suit and tie and occasionally tearing up before a senate committee seemed a little out of character. However, Kutcher was not only well versed on the topic of human trafficking, he has been fighting against this social plague for several years now.
Kutcher is the chairman of Thorn: Digital Defenders of Children, which builds software to fight human trafficking. This is the role he calls his "day job," along with being a husband and father. "I'm here today to defend the right to pursue happiness," Kutcher said in his opening statement to the Committee. Taking his main point straight from the Constitution, he went on to say, "I believe it is incumbent on us as citizens of this nation—as Americans—to bestow that right upon others—upon each other and upon the rest of the world."
In his address, Kutcher shed some light on the dire state of trafficking victims not only overseas but also here in America. He told the Committee about a tool he has developed with his team called "Spotlight." This tool has already identified over 6,000 trafficking victims, a third of which are minors. It has reduced investigation time for incidences involving trafficking by 60 percent. Additionally, a program called "Solis" has taken the investigation of questionable web material from three years to three weeks.
In his address, Kutcher brought up the refugee ban, and what it may do to exacerbate human trafficking. "When people are left out, when they're neglected, when they're not supported and when they're not given the love they need to grow, it becomes an incubator for trafficking… and this refugee crisis, if we want to be serious about ending slavery, we cannot ignore them, we cannot ignore our support for this issue in that space, because otherwise, we're going to have to deal with it for years to come," he said.
The actor turned advocate also spoke about other systems that need to be addressed in order to stem the problem of trafficking, including foster care and mental health care. You can watch his full address below.
When Kutcher made his appeal to the Committee, a bright red X could be seen pinned to the lapel of his suit coat. Similar pins could be seen on Committee Chairman Senator Bob Corker, and Senators Tim Kaine and Marco Rubio. The X represents the END IT movement, "a Coalition of the leading organizations in the world in the fight for FREEDOM."
Here is just a sampling of the people joining forces with END IT today:
Louie and Shelley Giglio

David Crowder

British Prime Minister Theresa May

Not to mention, all of these people…

Louie Giglio made the END IT movement a prime focus at the Passion conference—a gathering of more than 60,000 young people in January. Giglio told reporters that Jesus was "the ultimate abolitionist, the original abolitionist."