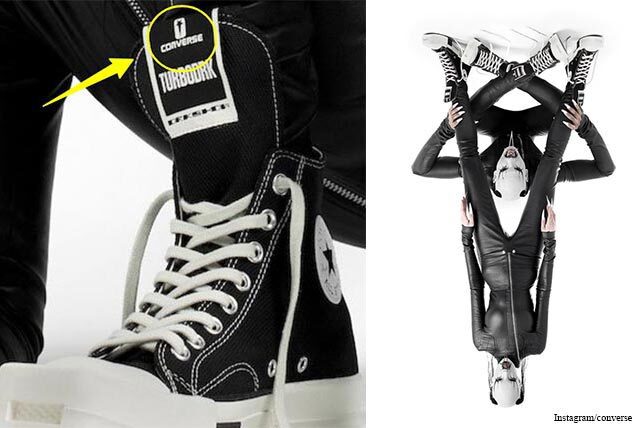 On July 27, 2021, American fashion designer Rick Owens, 59, launched a his version of the classic Converse Chuck Taylor All-Stars shoes called Converse x DRKSHDW TurboDrk Chuck 70, which features a Satanic pentagram symbol on the tongue of the shoe hovering above the Converse brand name.
As of today, the $170 Converse x DRKSHDW TurboDrk Chuck 70's have sold out, according to Converse's website, which also provides a way to sign up for text notification when more become available.
Converse is promoting the shoes with a demonic-themed Instagram post. The image has two models dressed in all-black, leather jumpsuits with their faces painted white highlighted by black eye shadow and lipstick while holding a Satanic pentagram in their mouths. The models are wearing Owen's new Converse x DRKSHDW TurboDrk Chuck 70s. In one of the images, the two models pose in formation to create a human pentagram.
Related article: Judge Orders Lil Nas X's 'Satan Shoe' to Stop Shipment
Owens' says his inspiration for the Satanic shoe comes from his fascination with the pentagram.
"I've been using this pentagram for a long time because obviously, it has adolescent occult associations," he said. The fashion designer explained why he likes the symbol: "I like geometric diagrams like that because, in a very primal way, they are a culture's grasp for control. And a way to organize thoughts and systems. And a pentagram, in this day and age with all of its associations…I like the fact that it refers to an alternative system. And that suggests openness and empathy."
The pentagram "suggests the pursuit of pleasure, this pursuit of sensation," Owens said. "But one of the main things that I think it suggests is empathy and a consideration of systems of living that might not be standard. So that leads us to be more accepting and tolerant of other systems, which I think is a good thing."
The pentagram symbol used on the shoe's tongue is known as the Sigil of Baphomet, which is the official mark of the Church of Satan.
In a interview with WWD, Owens called his Converse x DRKSHDW TurboDrk Chuck 70's "a little grotesque" and said, "I always think of it as kind of corrupting something that exists."
Owens described Converse's brand symbol as "mega chunky" and chose to replace it with what he called a darker and younger symbol.
Nike Shuts Down Lil Nas X's Satan Shoe
Earlier this year, Nike sued MSCHF for designing, marketing, and selling 666 pairs of Nike's Air Max 97s, dubbed "Satan Shoes" in a collaboration with rapper Lil Nas X. Marketing boasted that the shoes contained a drop of human blood in the sole and sold out almost immediately. Nike won the suit, stopping MSCHF from shipping any future orders of the Satanic shoe.